10/4/17news article
new initiatives underway based on Community Health Needs Assessment
Survey of parents, pediatricians and partners outlines state of children's health in the region and sets community health agenda
Mental health and addiction, chronic disease and maternal and infant health are the top pediatric health concerns in the Dayton region, according to the findings of the 2017 Community Health Needs Assessment released today by Dayton Children's Hospital.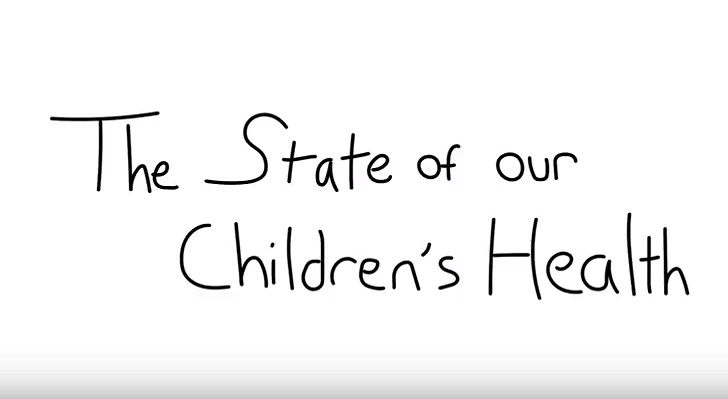 This 2017 survey of parents, pediatricians and partners outlines the state of children's health in the community and is used to develop new programs and strategies to impact these important pediatric health issues.
Conducted every three years, the health assessment is provided by the hospital and will be used to develop new programs and strategies to impact these important pediatric health issues. 
This year's assessment identified health and safety issues through a data collection process completed by The Hospital Council of Northwest Ohio.  A multidisciplinary team convened by Dayton Children's reviewed the data and then rated the needs against criteria including prevalence, seriousness (hospitalization and/or death), and impact on other health issues, urgency, prevention, economics/feasibility, acceptability and resources. The Dayton Children's Foundation funded the assessment.
"We are proud to be a part of this process and have funded the study for the past 15 years," says Patti Schear, Dayton Children's Foundation board chair. "This research is important to ensure Dayton Children's has the data necessary to identify and support efforts to address the region's most critical pediatric health concerns."
Among the findings in the 2017 Assessment:
Mental Health and Addiction (includes emotional wellbeing, mental illness conditions and substance abuse disorders)
9% of children experienced 2 or more adverse childhood experiences.
19% of mothers and 11% of fathers of 0 to 5 year olds rated their mental and emotional health as fair or poor.
Chronic Disease (includes conditions such as heart disease, diabetes and asthma, and related clinical risk factors-obesity, hypertension and high cholesterol, as well as behaviors closely associated with these conditions and risk factors- nutrition, physical activity and tobacco use)
50% of children ages 0 to 11 were classified as overweight (14%) or obese (36%) by Body Mass Index (BMI) calculations.
9% of parents were told by a doctor that their child had asthma.
13% of parents reported experiencing food insecurity, increasing to 19% of parents with a child age 0 to 5 and 60% of parents with incomes less than $25,000.
Maternal and Infant Health (includes infant and maternal mortality, birth outcomes and related risk and protective factors impacting preconception, pregnancy and infancy, including family and community contexts)
11% parents reported their child was born premature, increasing to 21% of African American parents. 
30% of parents of 0 to 5 year olds reported their child was never breastfed.
41% of parents of 0 to 5 year olds reported their child slept in bed with a parent or another person as an infant.
"With 20 percent of a child's health determined by his or her environment and 40 percent determined by behavior – there is a great need to ensure children have healthy and safe places to live, learn and play," says Deborah A. Feldman, president and CEO at Dayton Children's. "We use our community health needs assessment to build a children's health agenda which focuses on wellness, access to care and unmet community needs – elements impacting children's health beyond the walls of a hospital."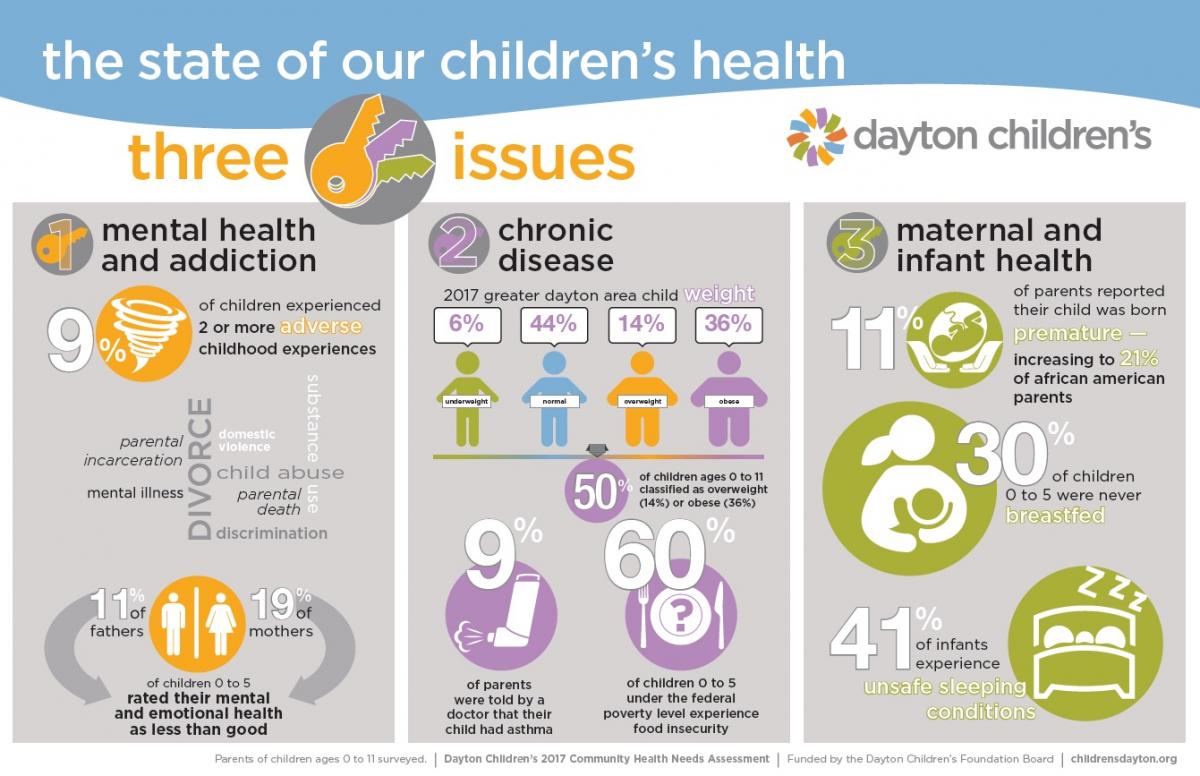 Implementation plan
To address these issues, Dayton Children's is broadening and accelerating efforts already underway on these issues. 
Dayton Children's recently named John Duby, MD, as the new vice president of academic affairs and community health. While he will continue to serve as chair of the department of pediatrics at Wright State University Boonshoft School of Medicine, this role will secure him as the senior leader over the hospital's community health initiatives. 
Dayton Children's created the Center for Community Health and Advocacy and hired Jonathan Thackeray, MD, as its medical director. Dr. Thackeray recently served as the Assistant Medical Director for Ohio Medicaid and in his work as a child abuse pediatrician has been leading the state-wide work on child abuse protocols.  Several current initiatives will now fall under the Center, including Dayton Children's Pediatrics, which is the primary care office Dayton Children's provides, the Asthma Alliance and the Family Resource Connection.  In addition, this Center will provide a medical home for foster children.
To address the significant mental and behavioral health needs for children in the community, Dayton Children's is developing a behavioral crisis center in connection with the emergency department by March 2018.  The hospital will also establish an inpatient mental health unit by 2019. 
To address these issues, Dayton Children's created an implementation plan with multiple strategies to focus community investment in mental health and addiction, chronic disease and maternal and infant health programs and resources for families.
"The services available to children in crisis are fragmented, duplicative, and confusing for parents and professionals," says Mindy Schultz, crisis center program manager. "Last year, we evaluated nearly 1000 children experiencing a severe crisis, but have become acutely aware of the need for a regional approach to caring for these high-risk children. We are so pleased to offer these new services to provide the right stabilization and connection for children."
Further efforts will include:
Work to implement tobacco-free policies
Implementing food insecurity screenings to determine how best to connect children with healthy food
Work to increase the use of safe sleep practices and breastfeeding
Train physicians and providers in trauma-informed care
Read the complete 2017 Regional Pediatric Health Assessment. For questions about the information in this report, please contact Dayton Children's at 937-641-3385.