5/29/14news article
new ambassadors announced at 32nd annual Children's Miracle Network Telethon
Ne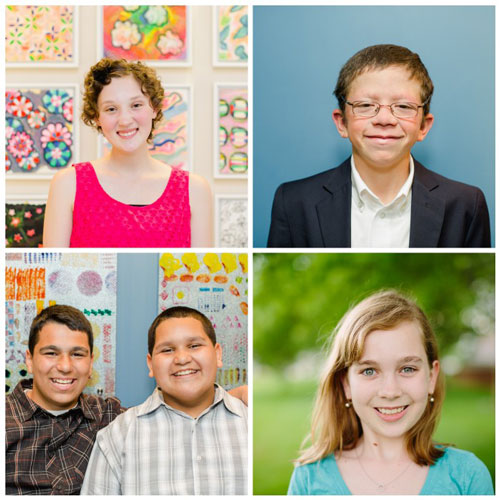 w ambassadors for Dayton Children's Hospital will be introduced during the 32nd annual broadcast of the Children's Miracle Network Hospitals Telethon on Saturday, May 31, and Sunday, June 1.
Ambassadors represent Dayton Children's at various events and programs throughout the year.
The new 2014-2015 ambassadors are:
Mariah Cornett (15) (top left)- You will never meet a teenage girl sweeter than Mariah Cornett. Mariah from St. Paris lights up a room and makes an impact on every person she meets. The hematology/oncology staff at Dayton Children's can attest to this because in March 2013 Mariah was diagnosed with anaplastic large cell lymphoma. Mariah immediately began treatment and spent most of her spring and summer at Dayton Children's. During this time she made lasting friendships with her nurses and even though she is no longer undergoing treatments, she still enjoys going back and visiting the nurses she calls her best friends! No one wants be diagnosed with cancer and no teenage girl wants to lose her hair, but Mariah has come out of this experience with an extremely positive attitude seeing cancer as not a burden but rather an opportunity to look at her life in a new light!
Dorian (14) and Derek (11) Lowen (bottom left)- Dorian and Derek Lowen from Springboro are your typical brothers. They pick on each other but at the end of the day love spending time together. What makes Dorian and Derek a-typical is the fact that they are living life together both with a genetic blood disorder. The Lowen brothers have hemophilia severe factor 9. They were both diagnosed as infants and have grown up learning how to manage this lifelong condition together. Thanks to the care received in the hemophilia clinic at Dayton Children's, Dorian and Derek have become their own biggest advocates for their health and are constantly an inspiration for other families learning how to manage hemophilia.
Parker McCalip (12) (bottom right) - Parker McCalip from Oakwood is a witty seventh grader. Having a conversation with her will not only leave you on your toes but will leave you walking away with a smile on your face. In the spring of 2009 Parker was diagnosed with generalized seizure disorder. Since then she has been seen in the neurology department at Dayton Children's to learn how to manage and control her seizures. While she will most likely live with this condition for the rest of her life, Parker has learned to accept her condition as her reality and continues life with a positive attitude and fun loving spirit!
Nicholas Thomas (12) (top right) - Nicholas Thomas from Dayton has an infectious smile and laugh. No matter what you do, you can't slow him down. This sports-loving seventh grader plays everything from baseball to basketball to wrestling and soccer. Watching him, you would never know that Nick lives every day with cystic fibrosis. Diagnosed at 5 months old, Nick has spent his life in and out of Dayton Children's seeing pulmonary specialist Gary Mueller, MD. Even though Nick is extremely active, he still has to spend every day giving himself treatments to help him breathe. However, Nick keeps a positive attitude and is thankful that Dayton Children's is close to home to help care for him.
About the Children's Miracle Network Hospital Telethon
The telethon hosts are Channel 7's, Cheryl McHenry, Mike Hartsock and K99.1 FM's Nancy Wilson.
The telethon begins at 9:00 pm on Saturday, May 31, and ends at 6:00 pm on Sunday, June 1. The broadcast will feature special kids who are connected to Dayton Children's and caregivers who treat the children.
"The broadcast is a celebration," says Debbie Butner, telethon manager at Dayton Children's. "We are celebrating the kids we care for, the staff that cares for them and the donors that work year round to support the hospital."
"The telethon is also an opportunity to thank and recognize our sponsors and donors for their generous support. Their commitment helps us continue to provide the best pediatric care during a child's time of need."
Funds raised locally for the Children's Miracle Network Hospitals program benefit Dayton Children's. Supporting the Children's Miracle Network helps ensure children throughout the Dayton region receive the life saving and quality care they deserve at Dayton Children's.
Viewers can make a donation by calling 1-888-746-KIDS (5437), or by donating online. You can also follow live updates onDayton Children's Facebook and Twitter pages during the telethon - follow@DaytonChildrens to stay connected.
Current ambassadors whose stories will be featured during the telethon are Kayleigh Crabtree, Kristopher Rodgers, Meghan Mays and Kelsey Collins. These four children have received treatment at Dayton Children's and have served as ambassadors over the past year.
For more information, contact: 
Grace Jones 
Marketing Communications Coordinator 
Phone: 927-641-3666 
marketing@childrensdayton.org