4/3/18news article
Need is greater than ever for child advocacy services
Recognizing child abuse awareness month and honoring a champion of children
As April showers begin, it's time to renew a commitment to serving abused or neglected children during child abuse awareness month.  Partners in CARE House came together to highlight the need that is greater than ever and to call for the community's support in protecting children.  They included Prosecuting Attorney Mat Heck, Jr. of the Montgomery County Prosecutor's Office, the Montgomery County Sheriff's Office, the Dayton Police Department, Montgomery County Jobs and Family Services and Dayton Children's Hospital.

CARE House joins these and many other child serving agencies in one location in the quest to protect children from abuse or neglect.  Working side by side inside the walls are police detectives, prosecutors, child and family advocates, psychologists, social workers and physicians to ensure that a child who has already suffered so much is encircled in the most comprehensive care a community can provide.
It's a service that's needed now more than ever.  As an area hit hard by the opioid epidemic, Dayton's children often become the unintended victims through abuse or neglect.  In the past year, CARE House conducted 640 forensic interviews with children – a 38 percent increase over the previous year. Too many children are suffering.
Along with partner organizations which have allocated more staff to this crucial endeavor, Dayton Children's has added a family service coordinator and a mental health clinician in the past year to CARE House.  "We also now have three specially trained child abuse physicians, a nurse practitioner and a pediatric sexual assault nurse examiner, dedicated to the medical needs of these children," says Deborah A. Feldman, president and CEO of Dayton Children's.  "We will continue to assess the need and make adjustments as necessary to ensure our children have the support they need as they go through difficult times."
Prosecutor Heck noted that since 1983, April has been designated as Child Abuse Awareness Month in order to call attention to the problem of child abuse and neglect. It serves to remind the public of the signs of child abuse and neglect, and to make the public aware of ways they can help. Prosecutor Heck challenged every citizen in Montgomery County to help protect the children in our community by reporting suspected child abuse or neglect to authorities. "Help us! See something, say something!" he added.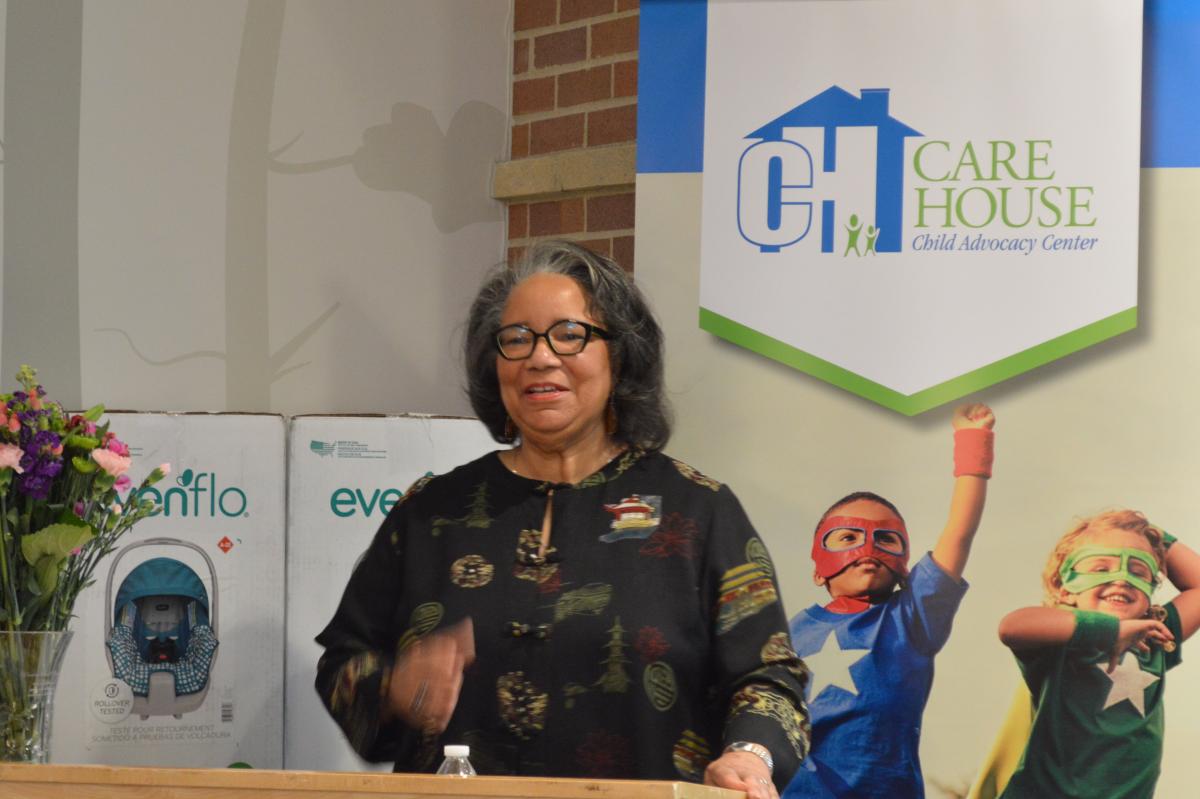 Prosecutor Heck also presented the 2018 Champion of Children Award to acknowledge the extraordinary results that can be obtained when citizens become involved. This year, the award went to Lucie Gaye Gerren. Gaye has been a guidance counselor at the Miami Valley Career Technology Center for the past 20 years. She actively supports the well‐being of students, and especially when they have been a victim of abuse of sexual assault. Gaye has encouraged students to contact the Prosecutor's Victim/Witness Division 24‐hour crisis line from her office when they do not feel safe at home to make that call. She has often reached out to the Prosecutor's Office whenever a student has been a victim of sexual assault or domestic violence and has called looking for advice or for referral information.
"I am thankful for brave advocates for children like Gaye," said Prosecutor Heck." She is very deserving of this year's Champion of Children Award."