1/16/17blog post
near mom, but not with mom
The American Academy recently released new recommendations for safe sleep for babies and the headlines may have moms a bit confused. It all boils down to this – keep baby close, but not in the same bed.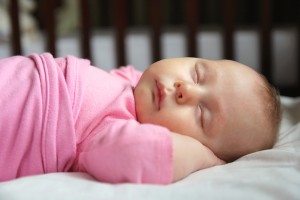 "The basic recommendation remains the same - babies should sleep alone, on their back and in a crib," explains Jessica Saunders, director of the Center for Child Health and Wellness at Dayton Children's. "This is the safest place for baby. However these new recommendations go a bit further to clarify many questions that parents and caregivers may have."
"Over the years it's been a struggle to ensure a healthy marriage between breastfeeding and safe sleep because a common myth is that a mother who breastfeeds needs to sleep with her baby. But convenience doesn't need to trump safety," says Saunders. "The recommendations encourage breastfeeding and state babies should sleep in the parent's room, close to the parents' bed but on a separate surface designed for infants. Ideally, this arrangement should extend through baby's first year, but at least for the first 6 months."
The recommendations also offer additional clarification around the many commercial devices that are available to parents. The AAP suggests parents should avoid the use of commercial devices that are inconsistent with safe sleep recommendations – these could include positioning wedges. When it comes to safe sleep – simple is better.
The guidelines also encourage the media and manufacturers to follow safe sleep guidelines in their messaging and advertising. "As someone who has blogged many times about the over-the-top decorations in infant bedrooms, it's refreshing to hear this message," says Saunders. "I know how overwhelming it can be going through the baby aisles and looking in baby magazines, and thinking this is what you should have in your baby's room. I was happy to see the recommendations include more than just mom and dad in this quest to keep our babies safe."
But the recommendations go even farther, or perhaps start earlier. Keeping baby healthy, strong and thriving starts before the little bundle of joy ever arrives. Statistics show that prenatal care is crucial. "The recommendations remind moms to refrain from smoking and drug use, especially during pregnancy, and obtain consistent prenatal care leading up to a baby's birth."
Ohio ranks among the worst for infant mortality so given the local and national statistics regarding safe sleep deaths, there clearly is work to be done. Take the time to review the new AAP recommendations. (http://pediatrics.aappublications.org/content/early/2016/10/20/peds.2016-2938)