6/13/16news article
Navy Week kicks off with visit from "Old Ironside" crew
USS Constitution sailors hand out "Caps for Kids"
It's Navy Week in Dayton!"What?" you ask. Navy Week? In Dayton??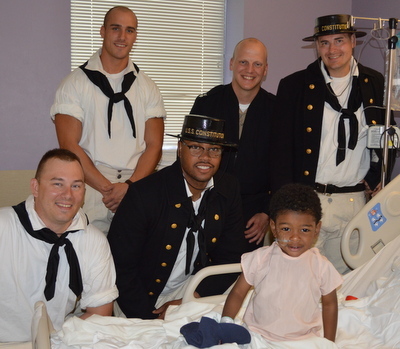 You bet! From Phoenix to Baton Rouge, America's Navy selected 15 cities across the country in 2016 as part of the Navy Week program – and Dayton is one.
Navy Weeks, coordinated by the Navy Office of Community Outreach (NAVCO), are designed to give Americans the opportunity to learn about the Navy, its people and its importance to national security and prosperity. You may be surprised to hear that, despite the lack of an ocean within 500 miles, the Navy has a full-time presence in the Dayton area – doing medical research at Wright-Patterson Air Force Base.
To start the festivities, sailors from the USS Constitution visited Dayton Children's patients, distributing Navy ball caps. These hats were donated from ships throughout the fleet. You might remember from history class, the Constitution, called "Old Ironsides" is the oldest commissioned battleship in the world that is still afloat. Sailors assigned to the Constitution wear uniforms from the 1800s and present a unique appearance wherever they go.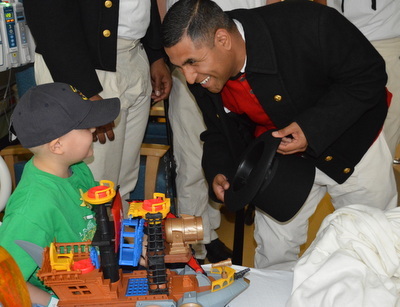 "Visitors like this really help our kids," says Karen Muller, child life manager. "It provides a little excitement to the day and livens up a stay in the hospital. To share a little of our military history and future with the kids is an added bonus."
On Wednesday, Rees L. Lee, MD, FAAP, FCCP, Captain in the Medical Corps, U.S. Navy; assistant professor of pediatrics, USUHS, Bethesda, Maryland and pediatric pulmonologist at Wright-Patterson Air Force Base will present to fellow physicians, discussing Navy medicine and pediatrics, especially contributions to civilian medical practice such as trauma care. He will share recent advances in malaria research, and in field testing for Ebola Virus with emphasis on Navy mobile lab capabilities.
About Navy Week
Since 2005, the Navy Week program has served as the Navy's flagship outreach effort into areas of the country without a significant Navy presence, with 181 Navy Weeks being held in 68 different U.S. cities.
"Navy Weeks are designed to help Americans understand that their Navy protects and defends America on the world's oceans, that their Navy is deployed around the world around the clock, and is ready to defend America at all times," said John Wallach, NAVCO's deputy director. "Because the Navy is concentrated primarily on both coasts, we're challenged to communicate our mission away from fleet concentration areas. The Navy Week program helps us do that."
Navy Weeks bring a variety of events, equipment and personnel to a single city for a weeklong series of engagements with the public, key influencers and organizations representing all sectors of the community.
"During a Navy Week, 75-100 outreach events are coordinated with corporate, civic, government, education, media, veterans, community service and diversity organizations in the city," said Lt. Cmdr. Brett Dawson, NAVCO's event planning department head.
Navy Week cities are chosen based on a variety of factors, including Gallup data on Navy knowledge and awareness, Navy recruiting data, demographic information, namesake ties of ships and submarines, past outreach history in the market and geography, to ensure events are dispersed across the country.
Last year's Navy Week program helped commemorate the Navy Reserve Centennial. There were 12 Navy Weeks across America that reached nearly 100 million Americans through more than 1,500 individual outreach events.
For more information on the Navy Week program, visithttp://www.outreach.navy.mil.
For more information, contact:
Stacy Porter
Public relations manager
Phone: 937-641-3666
newsroom@childrensdayton.org