10/11/13news article
more pediatric expertise coming to Springfield through a new pediatric care alliance
Dayton Children's and Nationwide Children's form Ohio Pediatric Care Alliance
Officials at Dayton Children's Hospital and Nationwide Children's Hospital are pleased to announce a formal collaboration focused on improving access to highly-specialized pediatric services for all Springfield area families.
The Ohio Pediatric Care Alliance is designed to reduce duplication of services and improve efficiencies and allow for the two independent children's hospitals to work together in the Springfield area to improve access to subspecialty pediatric care, execute shared initiatives and evaluate needs for new services. 
"Dayton Children's strategic road map, Destination 2020, calls for strong care alliances to improve access to quality pediatric care for the children of our region. We are thrilled about this new alliance which enables us to better meet the needs of families and community physicians in the Springfield area," says Dayton Children's President and CEO Deborah A. Feldman.
"Our strategic plan guides us in our vision of best outcomes achieved through the best people and the best programs," says Steve Allen, M.D., Nationwide Children's CEO.  "We view best outcomes to include access to the very best, cost-effective pediatric care and we welcome the opportunity to pursue these goals with Dayton Children's."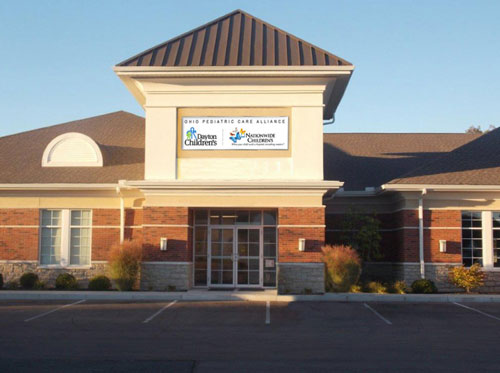 Dayton Children's and Nationwide Children's plan to deliver outpatient specialty pediatric services at 1644 N. Limestone Street in Springfield. An expansion of that facility is underway and expected to be completed in the second quarter of 2014.   
Dayton Children's and Nationwide Children's plan to deliver outpatient specialty pediatric services at 1644 N. Limestone Street in Springfield.
The agreement between the two hospitals calls for Dayton Children's specialists to provide outpatient care in the areas of cardiology, endocrinology, gastroenterology, hematology/oncology, nephrology, pediatric surgery, pulmonary and urology and Nationwide Children's to provide ENT clinic services.  The Nationwide Children's Child Lab will continue to operate at that location.  The two hospitals will be consulting with Springfield pediatricians and other primary care physicians to assess future shared services based on need. 
"This exciting new care alliance between Dayton Children's and Nationwide Children's is great for everyone in Springfield as it is guided by our shared principles of expanding care and improving access for all the Springfield area families while avoiding duplication of services and lowering costs," says Vicki Giambrone, vice president of strategic partnerships and chief business development officer for Dayton Children's.  "We already work exceptionally well together on other projects such as sharing pediatric specialists who care for young adults with pediatric cardiac conditions and pediatric surgeons who perform esophageal reconstruction surgeries, so this collaboration is a natural expansion of that work."
"This formalization of our long-standing collaborative relationship with our colleagues at Dayton Children's provides a structure through which we can implement shared services that will further our shared mission of providing state-of-the-art pediatric health care to the children and families we serve," says Patty McClimon, senior vice president, strategic and facilities development at Nationwide Children's.
About Dayton Children's Hospital
One of only 45 independent freestanding children's hospitals in the country, Dayton Children's is the region's only medical facility dedicated to children. Accredited by The Joint Commission and serving 20 Ohio counties and eastern Indiana, the experts at Dayton Children's care for more than 290,000 children each year. Consistently recognized as one of the country's best and most cost-effective pediatric hospitals, Dayton Children's is home to the Wright State University Boonshoft School of Medicine, Department of Pediatrics and together with the United States Air Force shares the nation's only civilian-military integrated pe­diatric training program. For more children's health and safety information, visit our web site at www.childrensdayton.org.
About Nationwide Children's Hospital
Ranked in all 10 specialties on U.S. News & World Report's 2013-14 "America's Best Children's Hospitals" list, Nationwide Children's Hospital is one of the nation's largest not-for-profit freestanding pediatric health care networks providing wellness, preventive, diagnostic, treatment and rehabilitative care for infants, children and adolescents, as well as adult patients with congenital disease. Nationwide Children's, also ranked among the Top 10 on Parents magazine's 2013 "Best Children's Hospitals" list, has a medical staff of 1,100 and 9,400 employees that provide state-of-the-art pediatric care for one million patient visits annually. As home to the Department of Pediatrics of The Ohio State University College of Medicine, Nationwide Children's physicians train the next generation of pediatricians and pediatric specialists. The Research Institute at Nationwide Children's Hospital is one of the Top 10 National Institutes of Health-funded freestanding pediatric research facilities. Nationwide Children's remains true to the original mission since its founding in 1892 of providing care regardless of a family's ability to pay. More information is available at NationwideChildrens.org.
For more information, contact: 
Kelly Kavanaugh 
Director Marketing Communications 
Phone: 937-641-3666 
marketing@childrensdayton.org