5/27/10news article
Mills Family Lounge ribbon cutting
The Children's Medical Center of Dayton hosted a ribbon cutting ceremony on Thursday, May 27 at 1:00 pm to formally unveil the newly renovated family lounge on the inpatient hematology/oncology floor.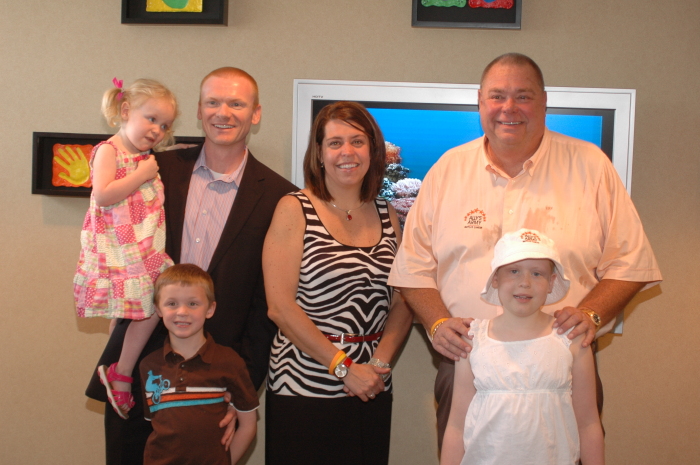 Dayton Children's received donations from the Mills Family Foundation, Ronald McDonald House Charities and other local families affected by cancer to support the renovation. Ally Barnett, Bob Mill's granddaughter, was diagnosed with Leukemia (ALL) on May 27, 2009. This year, May 27 will be a very special day. Ally and her family will help unveil the renovated family lounge. In recognition of the Mills family support, the newly renovated space will be named the Mills Family Lounge.
"My entire family has spent countless hours in the family lounge area in the hematology/oncology unit," said donor Bob Mills. "Ideally we hope for a cure, but in the meantime we are extremely happy to provide the funds to renovate the lounge and make it more comfortable for patient families."
Dayton Children's Comprehensive Care Center for Cancer and Blood Disorders provides state-of-the-art care and a multidisciplinary approach to treatment for children up to 21 years of age with blood disorders or cancer.  The center strives to ensure patients' and families' medical and psychosocial needs are met, and the new family lounge will aid in improving their overall experience.
Nearly 65 cases of cancer are diagnosed annually at Dayton Children's and approximately 5,500 children are receiving cancer treatment. All patients receive the latest cancer treatments and approximately 80 percent of patients enroll in clinical/research trials made available through Dayton Children's involvement in the Children's Oncology Group.
Dayton Children's cancer program is one of only 11 pediatric programs in the country approved by the American College of Surgeons (ACS). The care team complies with all standards mandated by the ACS Commission on Cancer and follows nationally approved treatment protocols.   
For more information, contact: 
Marketing Communications Department 
Phone: 937-641-3666 
marketing@childrensdayton.org