6/16/16blog post
meet Victoria!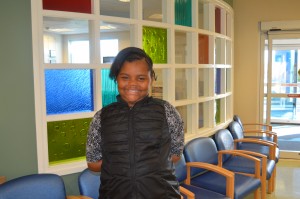 Hi. My name is Victoria Anella Lackey. I am 8 years old. While I have been a patient of Dayton Children's since I was about 2 months old, when I was about 3 years old I was rushed to Dayton Children's because I was having a hard time breathing. I was taken in for a chest x-ray and I was very scared and nervous. I was diagnosed with severe asthma. Since then, I was diagnosed with pneumonia three times. I've been admitted to Dayton Children's three times for pneumonia and three times for severe asthma attacks. Every time I was there I was treated with wonderful care and also my mother was updated on my care and treatment. Overall, if it wasn't for Dayton Children's I wouldn't be alive right now.
I'm looking forward to my trip to Washington D.C. and to share about being a patient at Dayton Children's. I am so excited that there is a children's hospital in my area. The nurses and doctors are so patient, kind, loving and caring. Overall everyone in Dayton Children's deserves 5-Stars for overall excellence. I can't wait until Family Advocacy Day so I can see all the wonderful people. I can't wait to go swimming in Washington DC. The pool has been calling my name.
Miss Jessica, who is traveling with us, is a wonderful person to know and to work with. She has brightened my day every time I speak with her. And Miss Tiffany, a community health worker we are working with, is a wonderful person also. She's funny, she's really good at her job and she also has helped me learn more about my asthma and is teaching my mother to eat healthy, stay healthy, live right and keep my asthma under control. And overall I just want to thank Dayton Children's for the awesome care they have given me and for doing their job and also for being there 24 hours a day when children like me are having a hard time breathing. I just want to say to all the doctors, nurses, surgeons, specialists, Miss Jessica, Miss Tiffany, Dr. Robert Bloom, Dr. Robert Fink, Dr. Robert Cohn and Dr. Adan Fuentes - Thank You so much for the wonderful care you have given me. Dayton Children's is awesome!