7/12/16blog post
marking another major milestone
The final beam of Dayton Children's new patient tower settles into place with a traditional "topping off" ceremony. Nestled on the northeast corner, the beam showcases brightly colored signatures representing good wishes from patients and families, donors, employees and vendors.

Senior leaders and employees of the hospital welcomed Kid's Advisory Council members, board members, donors, auxiliary members and volunteers to join them on the top level of the parking garage to watch the beam ascend to the highest floor of the new tower on Tuesday, July 12, 2016.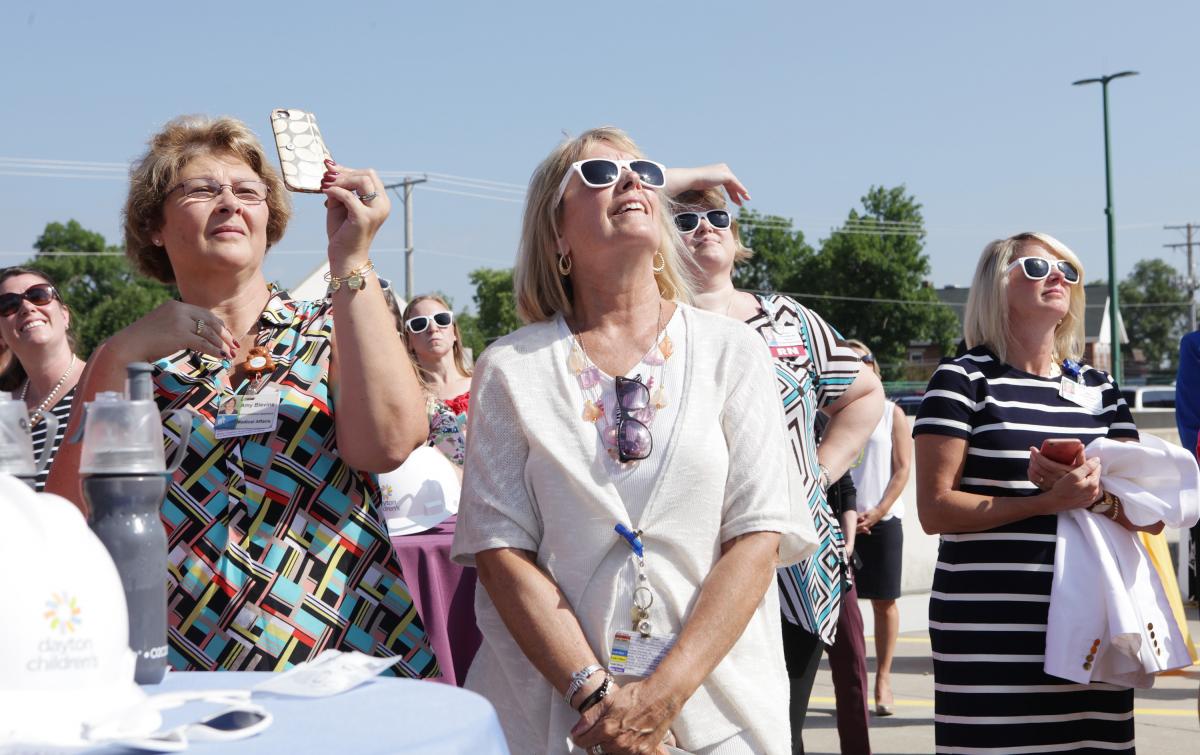 This event marks another major milestone in this project, which will culminate with the grand opening of the tower in June 2017. Inside progress is moving swiftly as well. Construction of the first level flooring will begin next week and the cafeteria will open to the public in January 2017.
"While we had planned to wait to complete the eighth floor of the tower, I am pleased to announce the Board of Trustees just approved moving forward with it," says Deborah A. Feldman, president and CEO. "It should be completed by September 2017, giving us in total five new floors of finished areas to best serve our children and families."
It's thanks to the generosity of those who have supported the Reaching New Heights Capital Campaign that this project is possible. So far the community has graciously donated $23.7 million to the funding of the tower. "Philanthropy is what will take the project from good to great," says Feldman. "It's the full support of the community that allows us to serve our children, making Dayton the best place for children to live, play and grow."
Major impact for the Minor family
Special guests, the Minor family, shared how important it is to have Dayton Children's close to home. Their 9-year-old son Jay comes to the pulmonary and audiology departments every year. Their 4-year-old daughter, Joy, has Down syndrome and sees a number of specialists in developmental pediatrics, cardiology, audiology as well as occupational, speech and physical therapy.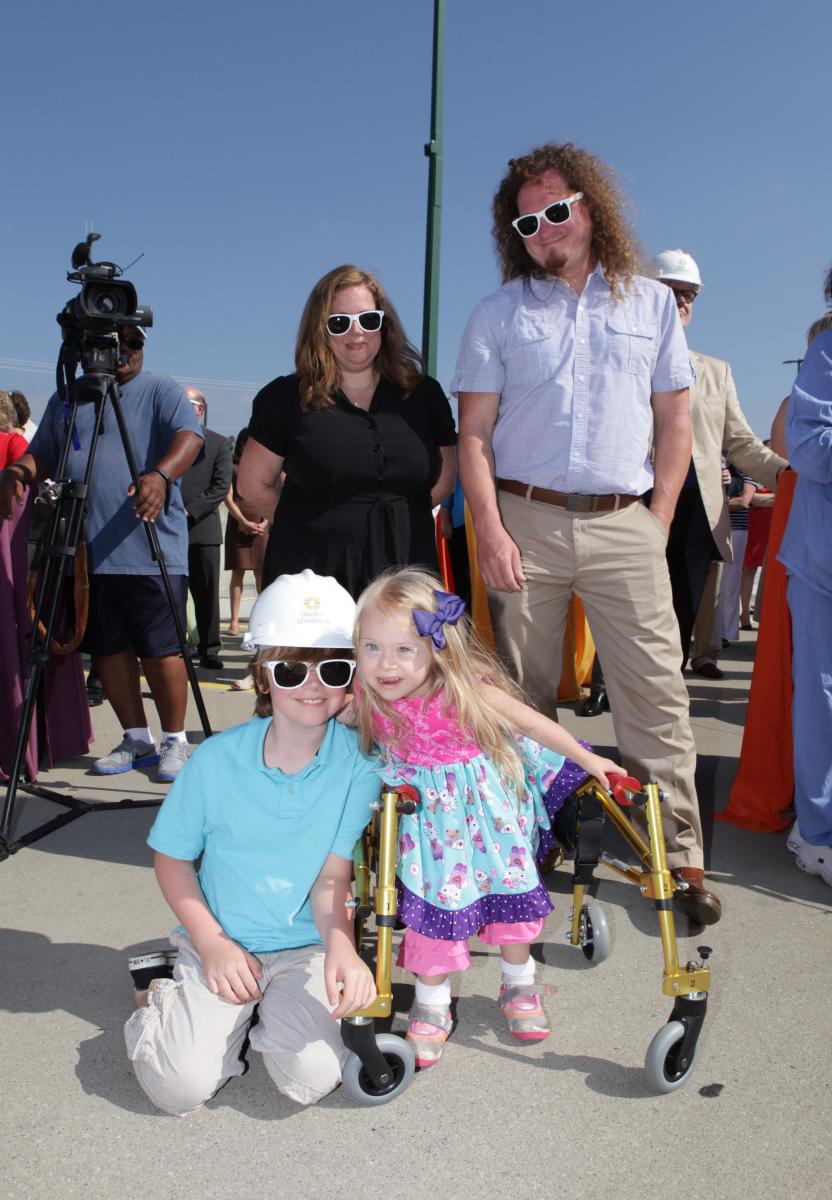 "Dayton Children's has become our second home," says Jessica Minor. "We don't have to travel far to make sure our kids have the very best care, as often as they need it. The specialists here are our family – together we laughed, cried and celebrated every achievement. The nurses and doctors supported us, reassured us and encouraged us, every step of the way."
"It's for kids like Jay and Joy that we are committed to ensuring that Dayton Children's remains a freestanding, independent children's hospital that can respond to the fast-paced and ever-changing world of pediatric health care," says Feldman. "This patient tower will house the most advanced spaces to ensure high-quality care for generations to come."
What is a topping off ceremony?
Topping off is a ceremony that dates back hundreds of years. It occurs when the highest steel beam of a structure is swung into place. Normally an evergreen tree is attached to the beam, as well as an American flag. This tradition has taken on a number of meanings over the years, but in most cases it's celebrating the hard work of the construction process, respecting the resources that nature provided and looking forward to new growth. Topping off is considered a project milestone.
The final beam
For six weeks, the final beam sat in Dayton Children's former main entrance for patient families, employees, donors and vendors to sign. Hundreds of signatures highlight this final beam with encouraging words of inspiration for the future of patients and the hospital. A sign with Dayton Children's former logo is also attached to this beam, so that it and all the well-wishes will be placed inside the walls and remain a part of the hospital forever. During the topping off ceremony, the crane operator lifted this beam into place at the northeast corner of the tower. An evergreen tree was also attached to the beam, decorated with dozens of small ornaments in the shape of Dayton Children's new whirligig logo. 
"When I started working here, I made a promise to myself that every family and child I came into contact with would benefit somehow from having interacted with me. No gesture is a small gesture when we have such an important job."

Cheryl St. Onge

Surgery
Above and beyond
On the back of each whirligig logo ornament are words of inspiration from Dayton Children's employees such as the one from Cheryl above. These submitted statements symbolize each staff member's continuing commitment to care for kids in our community. It is their promise to go above and beyond, every day – treating each child as if they were the only child.
As part of the ceremony, Dayton Children's unveiled a new tag line that encompasses that promise – above and beyond. This tag line is the perfect complement to the "things that fly" theme that will decorate the inside of the tower and to the dedication each caregivers shows each child.
"We're all specialists in what we do for kids and we will always look for ways to go above and beyond in making sure your child is taken care of," says Feldman. "When it's your child, nothing but above and beyond will do."