10/14/15blog post
marijuana and our kids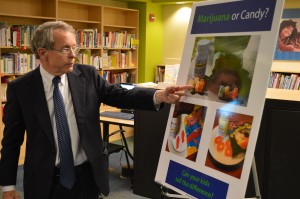 Ohio Attorney General Mike DeWine shows photos of marijuana products that look like candy
Yesterday, Dayton Children's held a press conference in opposition of Ohio Issue 3 which will be on the November 3 statewide ballot. Issue 3 legalizes recreational use and growth of marijuana by individuals 21 years of age and older, and allows every adult (21 and older) in Ohio to grow, possess, and use marijuana. This Issue seeks to change Ohio's Constitution to create 10 facilities with exclusive rights to commercially grow the drug.Our President and CEO, Debbie Feldman, was joined by Ohio Attorney General Mike DeWine and Montgomery County Sherriff Phil Plummer, as well as our medical director of neurology, Gogi Kumar, MD, standing in opposition to this ballot Issue.
As each person spoke, my heart sank thinking about the dangers this Issue poses for our kids – not to mention the community and state.
According to the Rocky Mountain High Intensity Drug Trafficking Area (RMHIDTA) who is tracking the impact of marijuana legalization in the state of Colorado, in 2014, when retail marijuana businesses began operating, there was a 32 percent increase in marijuana-related traffic deaths in just one year from 2013. In addition, marijuana-related traffic deaths increased 92 percent from 2010 – 2014. During the same time period all traffic deaths increased only 8 percent.
In Colorado, drug-related suspensions/expulsions increased 40 percent from school years 2008/2009 to 2013/2014. The majority were for marijuana violations. There was also a 20 percent increase in the percent of 12 to 17 year old probationers testing positive for marijuana since marijuana was legalized for recreational purposes.
Our experts at Dayton Children's are concerned because the adolescent brain is still undergoing active development. Marijuana use during this time increases vulnerability to adverse, long-term outcomes.
Marijuana not only is taking a toll on adults and teens – but young children are also at risk. In the same report, Children's Hospital Colorado reported 16 marijuana ingestions among children younger than 12 in 2014 compared to only 2 in 2009.
Of great concern is that edible marijuana that looks like candy is poisoning children – and the passage of Issue 3 will open the doors for these products to be sold in Ohio and marketed to our children.
There are lessons to be learned from states who have already legalized marijuana such as Colorado. There are a lot of arguments for and against the legislation – however at Dayton Children's we are making sure that children have a voice and are considered on election day.