9/25/12news article
Maria Nanagas, MD, named 2012 Wallace B. Taggart award winner
The Children's Medical Center of Dayton is pleased to announce Maria Nanagas, MD been awarded the Wallace B. Taggart Award for her outstanding service in the health care of children. Dr. Nanagas was honored by her peers during a ceremony on Friday, September 21, at America's Packard Museum in Dayton. The Taggart award recognizes professional staff members with a commitment to Dayton Children's, a commitment to quality patient care and a commitment to those in the community. The award is the hospital's highest physician honor and is designed to credit the example of Dr. Taggart and his colleagues who pioneered pediatric care in Dayton.  Dr. Wallace B. Taggart was the first chief of staff at Dayton Children's, and she cared for children above all else. He was deeply committed to the mission of children's medical center and to students, to colleagues and to his community.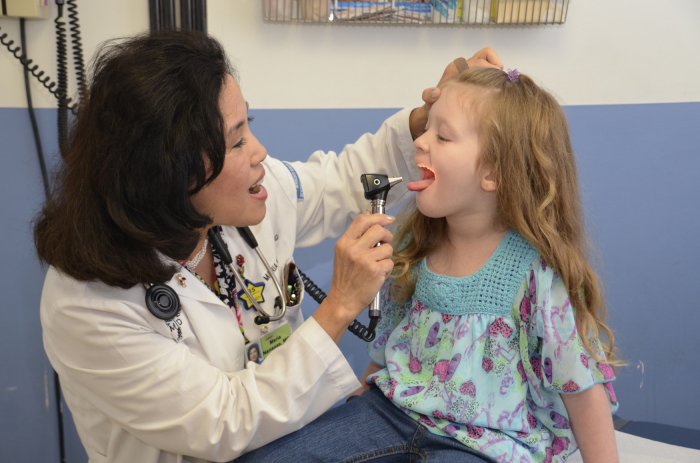 Dr. Nanagas was born and raised in the Philippines where she attended an all-girls school taught by Benedictine nuns.  This was her foundation for her passion for service and advocacy.  She proudly attended the University of the Philippines where she received her medical degree.
She completed her residency at St. Elizabeth's Hospital in Boston and a fellowship in ambulatory pediatrics at North Shore Children's Hospital in Salem, Massachusetts. 
Dr. Nanagas was introduced to Dayton Children's in 1976 when she moved to Dayton and began working as a pediatrician and an assistant professor of pediatrics at the Wright State University Boonshoft School of Medicine.
Today, she is the medical director of the Children's Health Clinic at Dayton Children's and coordinates the residency program at the clinic.  Her colleagues within the hospital are quick to say that she embodies the spirit of Dayton Children's and is the essence of a truly caring pediatrician.  Everything is guided by one simple principle- what is in the best interest of the children?
Dr. Nanagas is also the region's expert in lead poisoning and has been the head of the Dayton Children's lead poisoning clinic since 1980.  She led an effort to establish the Miami Valley Lead Poisoning Prevention Coalition and then worked with that coalition to secure a five million dollar grant to provide education, free lead testing for children, and funds for lead abatement. 
Outside of the hospital, she has given thousands of hours volunteering with a number of community service and advocacy groups.  She established a pediatric program for the Women's Recovery Center in Xenia and is a long-time volunteer and care provider at the Salud Clinic.
In 2010, Dr. Nanagas won the outstanding overseas educator award from the University of Philippines Medical Alumni Society and the distinguished service award at Dayton Children's.  In 2009, the Ohio chapter of the American Academy of Pediatrics awarded her the Arnold Friedman Community Pediatrician award honoring her longtime service to the children and youth of Dayton.
For more information, contact: 
Grace Jones
Marketing Communications Specialist 
Phone: 937-641-3666 
marketing@childrensdayton.org