10/7/15news article
local students promote safe walking to school on International Walk to School Day
nearly 600 schools nationwide participated in Safe Kids and FedEx sponsored events
Volunteers from Dayton Children's Hospital, Safe Kids Greater Dayton and East End Community Services joined students and parents from Ruskin PreK-8 and around the country to celebrate International Walk to School Day. There were more than 600 International Walk to School Day activities around the country as part of the Safe Kids Walk This Way pedestrian safety program sponsored by FedEx.
Every day, 44 children are hit by a car in the United States. That's 16,000 children hit by cars every year. According to the World Health Organization, road traffic injuries are the second-leading cause of death among children ages 5 to 14 worldwide. Safe Kids Greater Dayton and FedEx are working together to raise awareness, promote pedestrian safety, create safer routes for walking and bicycling to school. Together, they recently released an interactive infographic on the seven ways children get hit by cars.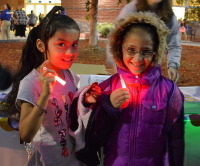 To bring awareness, teams of volunteers met students and their parents at corners around Ruskin PreK-8 and walked with them, creating a "walking school bus." The children carried signs urging drivers to slow down or watch for pedestrians, written in both English and Spanish. Once at the school, children received hats, bags, t-shirts and glow sticks as special mementos.
"At Dayton Children's we know the importance of working with partners to improve the health and safety for children's in our community," says Jessica Saunders, director of Dayton Children's Center for Child Health and Wellness. "Today's event was a great way to team up to provide the best environment for our kids to grow and learn. The importance of increasing knowledge of pedestrian safety was clear with nearly 200 kids, parents and community volunteers participating."
About Safe Kids Greater Dayton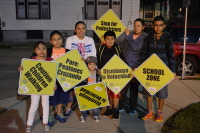 Safe Kids Greater Dayton works to prevent unintentional childhood injury, the number one cause of death for children in the United States. Safe Kids Greater Dayton is a member of Safe Kids Worldwide, a global network of organizations dedicated to preventing unintentional injury. Safe Kids Greater Dayton was founded in 1994 and is led by Dayton Children's Hospital.
About FedEx
FedEx Corp. (NYSE: FDX) provides customers and businesses worldwide with a broad portfolio of transportation, e-commerce and business services. With annual revenues of $46 billion, the company offers integrated business applications through operating companies competing collectively and managed collaboratively, under the respected FedEx brand. Consistently ranked among the world's most admired and trusted employers, FedEx inspires its more than 300,000 team members to remain "absolutely, positively" focused on safety, the highest ethical and professional standards and the needs of their customers and communities. For more information, visit news.fedex.com.
For more information, contact:
Stacy Porter
Communications specialist
Phone: 937-641-3666
newsroom@childrensdayton.org