3/21/17news article
kids go tribal during Cirque de Soleil visit
Avatar inspired artists entertain and inspire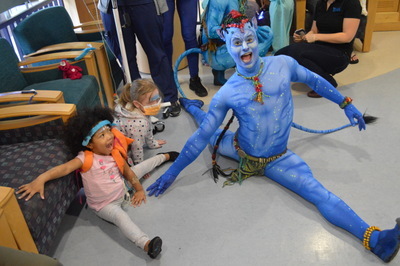 Patients were transported to the moon of Pandora Tuesday, March 21, 2017, as artists from the Cirque de Soleil specatcular, Toruk – the First Flight, visited Dayton Children's Hospital.  Three Na'vi in their trial blue best showed their gravity defying moves for kids in the Kohl's lounge.
The show starts March 22 at Wright State University Nutter Center and runs through March 26.   TORUK – The First Flight envisions a world beyond imagination thousands of years before the events depicted in James Cameron's blockbuster film, Avatar, that created the visually stunning world of Pandora.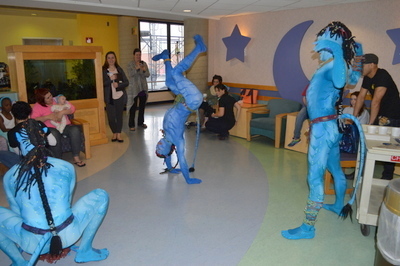 Kids got a little taste of the show as the artists showed off their bright blue costumes up close and posed for pictures doing handstands and the splits. They also pulled out the paintbrushes to decorate little faces with blue and white markings and made kids part of the tribe with animal striped stickers. 
For more information, contact: 
Stacy Porter 
Public relations manager 
Phone: 937-641-3666 
newsroom@childrensdayton.org