11/20/15blog post
#itcanwait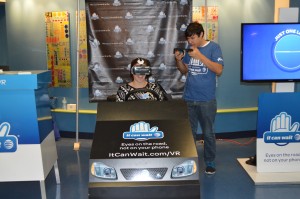 Admit it. We've all done it. We've glanced at our email, sent a text, or liked a Facebook post when we were supposed to be concentrated on driving. And while we may think of teenagers when the term "distracted driving" is mentioned, we know that all of us can be distracted on the road.
Last week, the AT&T #ItCanWait campaign made a stop at Dayton Children's to share their 3D simulator which creates the firsthand experience of how dangerous it is to take your eyes off the road and look at a phone. Through slow-motion cinematography, viewers are able to see the jarring aftermath of taking their eyes off the road to glance at or tap on a smartphone while driving.
As an organization solely dedicated to the health of children in our community, sharing this experience with our staff was essential to drive home the fact that all of us are susceptible to distracted driving and it takes a concentrated effort to stay focused.
The simulator was powerful. My coworker participated in the simulation and then had to leave the hospital for another meeting. On her way to the meeting, another coworker tried to call and text her. However, after the simulation, she just kept telling herself "don't check the phone, don't look at the phone, stay focused."
In AT&T's commuter survey nearly half of adult commuters admitted to texting while driving despite knowing the risks. Of that 49 percent of commuters who self-reported texting while driving, 98 percent of them admitted that sending a text or email while driving wasn't safe. Remaining focused on driving required vigilance!
The simulator is just one part of the #ItCanWait campaign. It Can Wait is a national movement urging drivers to visit www.ItCanWait.com. They can pledge on the site to keep their eyes on the road, not on their phone. Then, they can share their pledge via Twitter (#ItCanWait) and Facebook. The campaign started by focusing on not texting and driving. It has now expanded to the broader dangers of smartphone use behind the wheel.
There are 30-second spots featured in national TV programming and on ItCanWait.com. AT&T's YouTube page also contains 30-second spots and the full-length feature.
There is also an opportunity for teenagers to get involved. AT&T and the Ohio Department of Public Safety are also inviting Ohio high school students to submit ideas for video messages discouraging smartphone distractions behind the wheel. Students may send written video scripts or concepts to ODPS in December and January for the It Can Wait/Safer Ohio Video Challenge. Several students will have their ideas selected for production in 2016. Learn more about this video challenge.