6/8/09news article
Huber Heights family to travel to Washington D.C. as part of NACH Family Advocacy Day
patients and families from children's hospitals across the country to converge on Capitol Hill to demonstrate support for children's hospitals June 16 - 18
As Congress decides what provisions will be included in legislation that could impact the health care of all Americans, the Ellington family of Huber Heights will travel to Washington, D.C. on June 17 and June 18, along with dozens of other children and families, to meet with lawmakers to ensure health reform legislation works for children too.
The Ellington family will be in Washington as part of the 2009 National Association of Children's Hospitals(N.A.C.H.) Family Advocacy Day, an effort to ensure national health reform legislation includes affordable health insurance coverage for all children and access to high-quality, specialized care. Nearly nine million children in the U.S. still lack health coverage. And while millions of children are covered by Medicaid, gaps in access to care exist due to low provider reimbursement for services.
"We are headed to Washington to make sure our lawmakers keep children's health care needs top of mind when making changes to the way health care is organized, delivered and paid for," said Karon Ellington.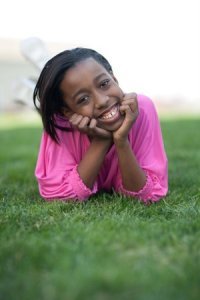 Shayla Ellington, 12, and her sister Aliya, 7, suffer from sickle cell anemia, a lifelong, painful illness. However, their lives have been drastically improved through their experience and treatments provided by their local children's hospital, The Children's Medical Center of Dayton.
The Ellingtons were active duty Air Force living in Japan at the time of Shayla's diagnosis and came to Dayton Children's because there were no facilities in Japan to effectively treat sickle cell.
"We were able to request to be near a hospital that could treat Shayla's disease and they said that Dayton Children's near Wright-Patterson Air Force Base had the best facility," says Karon.
Since they moved to the area for Shayla's treatments, the Ellingtons have been more than pleased with the care they have received.
"It has been wonderful," says Karon. "This is an opportunity to be heard. At Family Advocacy Day we'll be able to tell our stories and share how Dayton Children's has improved the quality of life for Shayla and Aliya. We also want to tell legislators about the crucial role Dayton Children's plays in our region, providing innovative medical services and medical training tailored specifically to the needs of our children."
With diagnoses ranging from Leukemia to cerebral palsy, the children and their parents hope to raise awareness for the important specialized care that children's hospitals provide, and to stress the significant role that SCHIP and Medicaid play in helping ensure that these valuable services are available to all children who need them.
"Children's hospitals like Dayton Children's are a safety net for kids and provide care to the sickest and most vulnerable children in our nation," says Vicki Giambrone, vice president for marketing and external relations at Dayton Children's. "Health reform represents an immediate opportunity to improve the health status of all Americans, particularly children—the most vulnerable among us."
Children's hospitals account for less than five percent of all hospitals nationwide, but they provide nearly 40 percent of all hospital care for children and the majority of care for children with serious medical conditions. They are responsible for providing training for the majority of pediatricians and virtually all pediatric subspecialists and research scientists.
On average, Medicaid and SCHIP patients account for more than 50 percent of all patient care at children's hospitals nationwide.
Learn more about Shayla and Aliyah's journey as they blog about their trip. Log on to http://daytonchildrens.blogspot.com or follow live updates on Twitter at www.twitter.com/DaytonChildrens.
For more information on Family Advocacy Day, visit http://childrensindc.wordpress.com/
About the National Association of Children's Hospitals:
The National Association of Children's Hospitals is the public policy affiliate of the National Association of Children's Hospitals and Related Institutions. Representing more than 140 freestanding acute care children's hospitals, freestanding children's rehabilitation and specialty hospitals and children's hospitals organized within larger medical centers, it addresses public policy issues affecting children's hospitals' missions of service to the children of their communities, including clinical care, education, research and advocacy. For more information, please visit http://www.childrenshospitals.org/
For more information, contact: 
Marketing Communications Department 
Phone: 937-641-3666 
marketing@childrensdayton.org