6/6/16blog post
generations of exceptional care inspire $50,000 family gift
Dayton resident and CEO of Adams Robinson Enterprises, Mike Adams, is no stranger to the exceptional care provided at Dayton Children's Hospital. After having two generations of his family benefit from the care they received at Dayton Children's, his family has chosen to join other area community leaders by making a $50,000 family gift to the Reaching New Heights Campaign.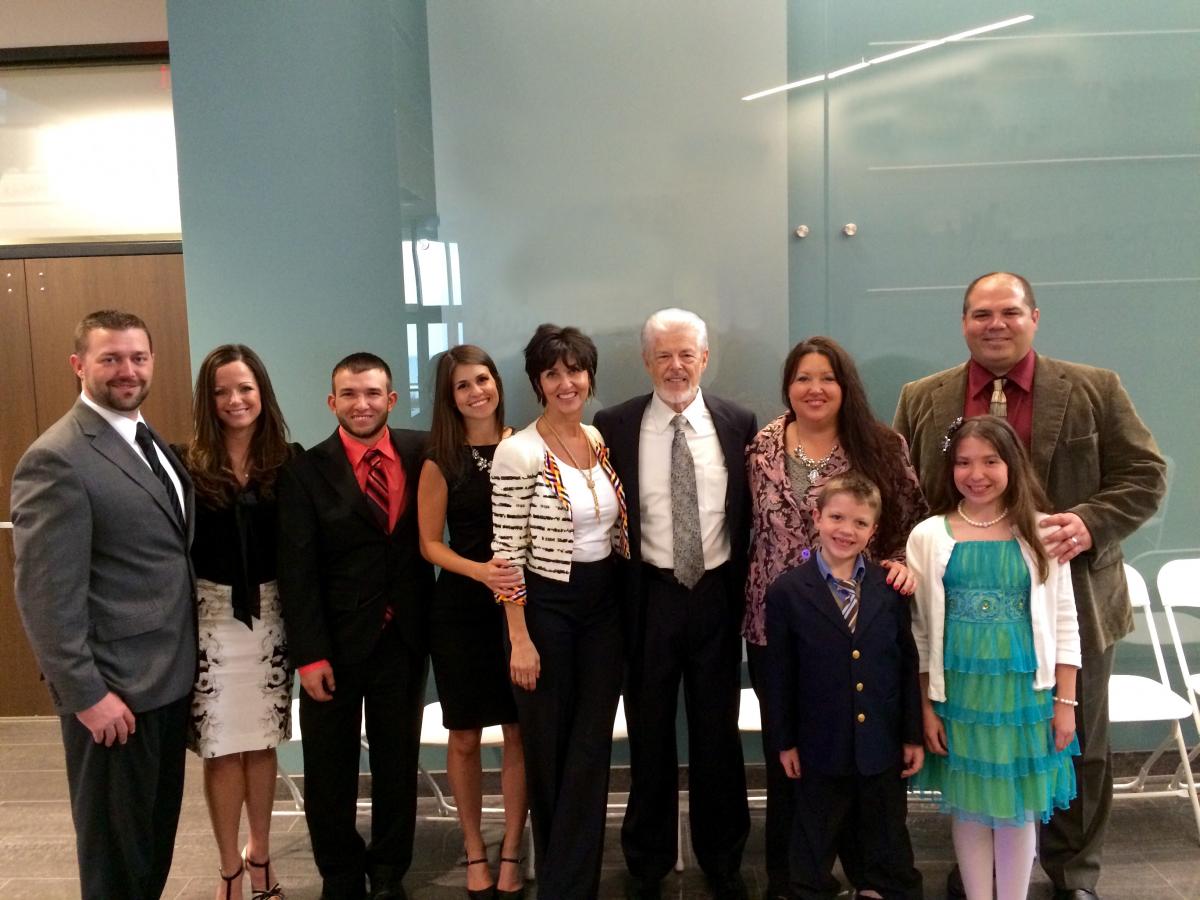 "Our family is honored to be a part of this significant project at Dayton Children's. With multiple family members having been treated at this exceptional hospital, we want to ensure that Dayton Children's remains an asset for our community's children for generations to come," said Adams.
This gift is not the first from the family – as loyal campaign supporters, the Adams family has been making a positive impact on families at Dayton Children's since they supported the Dayton Children's Pediatric Trauma and Emergency Center campaign in 2009.
In 1986, Mike's son Brad was on his way to swim class when he was involved in a car accident. As a result of the accident, the then 6 year old experienced multiple broken bones and a severe spine fracture. Brad was brought by ambulance to Dayton Children's emergency room where he was seen by orthopaedic surgeon, James Lehner, MD.
"Brad had a dangerous and rare fracture, but because there was no disruption of the ligaments or disk and the break was directly through the bone, the greatest ability for him to heal was to immobilize the bone for healing," said Dr. Lehner.
Dr. Lehner said no to surgery, and put Brad in a body cast from the top of his chest down one leg for eight weeks. Brad spent three of those eight weeks inpatient at Dayton Children's. "During his treatment, Brad acted like there was nothing wrong with him and he healed beautifully," said Dr. Lehner.
The family knew that there was a risk to do the surgery and were extremely thankful for the insight and confidence that Dr. Lehner had in treating their son. Thanks to the care team at Dayton Children's, Brad made a 100 percent recovery and went on to be the captain of his high school football team at Vandalia-Butler. Today, Brad serves as vice president and general manager of Adams Robinson Enterprises. He and his wife Vanessa have five children and one on the way.
Nineteen years later, Mike's daughter, Kimberly Connors, human resource manager and corporate officer for Adams Robinson Enterprises, noticed her 14-month-old daughter Kelcie seemed to be walking with a limp when she was taking her first steps. Concerned, Kim took Kelcie to her pediatrician, who then referred her to see Michael Albert, MD, an orthopaedic specialist at Dayton Children's.
"I am especially thankful for the exceptional care our daughter received from Dr. Albert during our many visits to Dayton Children's," said Kimberly. "We bonded with Dr. Albert immediately and he put our family's fears at ease."
Kelcie was diagnosed with an unusual case of developmental hip dysplasia, which over time caused her hip to dislocate. Dr. Albert performed open-reduction hip surgery on Kelcie, which then required her to be in a full body cast for eight weeks.
"This was a big surgery for a 15 month old, however, Kelcie did fantastic," said Dr. Albert. Her parents could not agree more. "We were prepared for the worst; a very unhappy 1 year old in a cast for two months, but Kelcie was a champ and never cried once. Dr. Albert and his staff at Dayton Children's gave us the support we needed to keep her comfortable and happy during the time in her body cast."
Once the cast was removed, Kelcie was required to wear a walking brace, known as a rhino-harness, for over a year. Today, Kelcie is an 11 year old who excels at sports and dance. She especially loves to play select soccer and basketball.  Kelcie has made a perfect recovery and still makes trips to Dayton Children's for bi-annual check-ups, where she looks forward to seeing her buddy, Dr. Albert.  Kelcie's two siblings were also checked as infants by Dr. Albert and his team, but luckily treatment was not needed.
"It's patients like Kelcie that make me enjoy what I do every day," says Dr. Albert "I am honored to have had the pleasure of treating Kelcie, and am grateful for the Adams family's support of this historic project."