12/6/17blog post
fierce charlotte lights up our tree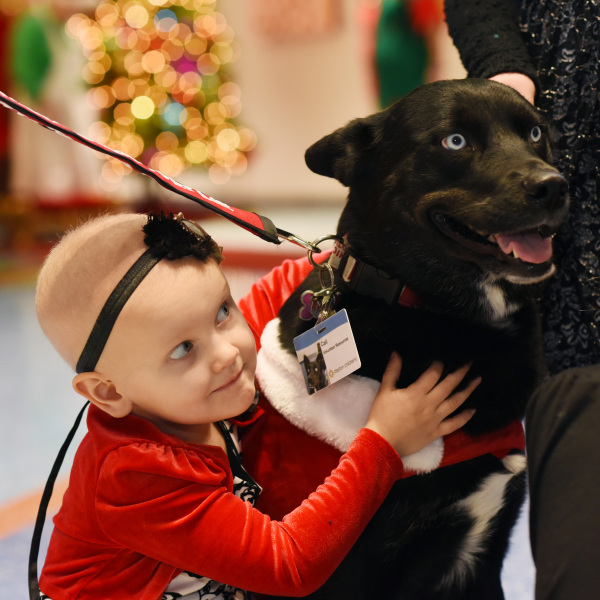 'Twas the Holiday Tree Lighting, when all through the halls
Not a patient was frowning, not even the adults
There were milk and cookies and smiles to share
In hopes that Fierce Charlotte soon would be there.
November 27 marked Dayton Children's first-ever holiday tree lighting in the Take Flight Gallery. Debbie Feldman, president and CEO of Dayton Children's, opened the ceremony in gratitude for the staff who are able to bring holiday cheer to patients and families spending Christmas in the hospital.
"It's difficult for families to be at the hospital during any holiday," said Feldman. "But typically Christmas is especially hard. That's why for nearly five decades our staff have gone above and beyond to decorate their units and departments to make the holidays a little brighter for kids who have to be in the hospital this time of year."
As excited as everyone was to see the tree light up, patients, families and staff members could not wait to see three-year-old cancer patient "Fierce Charlotte" light the tree to kick off the holiday season.
Charlotte Caraway was just 14-months old when she was diagnosed with a stage V Wilms Tumor, a type of kidney cancer. She endured seven months of chemotherapy and had part of her left kidney removed. After beating cancer right before Christmas of 2015, Charlotte relapsed nine months later in November 2016.
They call her "Fierce Charlotte" for a reason though. The holiday tree lighting was a joyful opportunity to announce that Charlotte beat cancer once again. Two days before Thanksgiving, the Caraway family was told that Charlotte's tests found no cancer and she could stop chemotherapy.
Charlotte's mother Stephanie shares, "We have been very happy with our experience at Dayton Children's. Obviously, we are not 'happy' that Charlotte is a cancer patient, but we are thankful for how much the doctors and nurses in the hematology/oncology clinic love Charlotte. It is precious."
The look on Charlotte's face truly was precious as she pushed a big button atop of a Christmas present to light up the tree. The cheering crowd was filled with endless smiles for Charlotte's victory and the holiday season to come.
Local a cappella group, VocaLights, sang everyone's favorite holiday tunes while patients, families and staff members enjoyed Christmas cookies.
Charlotte's face can be seen this holiday season on billboards, in magazine ads and on social media as part of Dayton Children's end-of-the-year campaign called, "Your gift. Charlotte's future." The campaign hopes that sharing Charlotte's awe-inspiring story will continue to raise funds for all kids at Dayton Children's who deserve a bright and healthy future.