4/4/08news article
executive director and CEO of the American Academy of Pediatrics visits Dayton Children's
Errol R. Alden, MD, FAAP, executive director and CEO of the American Academy of Pediatrics (AAP) visited The Children's Medical Center of Dayton on Wednesday, April 1.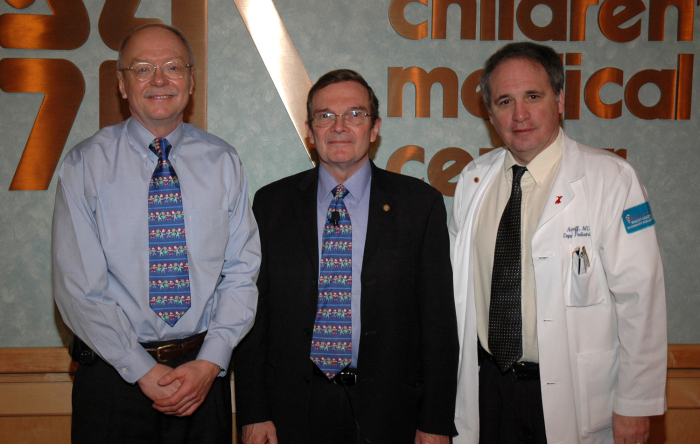 Dr. Alden was in Dayton to give a grand rounds presentation to local pediatricians titled, "Making a Difference for Children and their Pediatricians." 
He spoke about the AAP's current strategic priorities, identified major media coverage of important child health issues, reported the AAP's efforts to develop science-based policies, programs, and products related to children's health issues and discussed the pediatrician's role as an advocate for children. 
Dr. Alden joined the American Academy of Pediatrics in June 1987. He has authored/co-authored over 45 published articles along with numerous abstracts, commentaries and chapters. 
Dr. Alden was awarded the Joseph St Geme Jr., Leadership Award in May 1997, the only award for leadership in medical education given by the entire pediatric community. In addition, Dr. Alden and his colleagues won the Gold Medal Award from the AAP in 1977, for their work in teaching neonatal resuscitation. 
A 1966 graduate of Ohio State University, Dr. Alden completed his internship and residency at Madigan Army Medical Center and a fellowship in neonatology at the University of Washington, Seattle. 
About the American Academy of Pediatrics:
The American Academy of Pediatrics (AAP) and its member pediatricians dedicate their efforts and resources to the health, safety and well-being of infants, children, adolescents and young adults. The AAP has approximately 60,000 members in the United States, Canada, Mexico, and many other countries. Members include pediatricians, pediatric medical subspecialists and pediatric surgical specialists. More than 34,000 members are board-certified and called Fellows of the American Academy of Pediatrics (FAAP). For more information visit www.aap.org.
For more information, contact: 
Marketing Communications Department 
Phone: 937-641-3666 
marketing@childrensdayton.org