5/15/15news article
demolition begins on Dayton Children's support services building
makes way for new eight-story patient care tower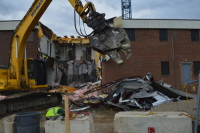 It looks like a giant dinosaur tearing through brick and steel with its teeth. Or a Transformer crashing through rooms in search of an enemy. That's especially what the kids inside Dayton Children's Hospital may be thinking about the demolition today of the former support services building.
It once housed offices for human resources, marketing, information services and finance at Dayton Children's, but today those offices saw their last sunrise. Just after dawn, Danis Construction crews went to work, using three track hoes with hydraulic arms and massive pinchers to break through the brick. With moreflexibility than the human wrist, those pinchers almost delicately pull each piece of steel from the structure. That steel is then hauled away for recycling.
Demolition of the support services building is the last phase of major demolition in Dayton Children's master facility plan that will create a new state-of-the-art, eight-story patient care tower. It will take approximately two weeks to complete the demolition, one week to tear the building down and another to haul away the debris.
The building will be brought down from the outside edges into the middle for safety purposes. The track hoe operators also engage a water fan remotely from the cab. It blows a steady stream of water in the work area to minimize dust.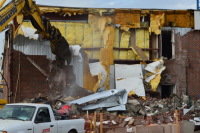 "While many people who worked in the support services building are a little sad to see it go, tearing it down clears the way for a tremendously exciting future," says Cindy Burger, vice president of patient and family experience and project manager for the hospital.
Just last week, Danis Construction installed a 200 foot tall crane in the center of the hospital's campus, used to swing heavy building materials into place. During crane assembly, Danis Construction also used a drone to see the project from a different angle. Danis is only the second contractor in the nation to obtain FAA permission to fly over a construction site.
Reaching new heights
The new patient care tower is part of a long-term facilities plan that will create a campus that meets the needs of patients, families and care providers well into the future. These new care spaces will embody Dayton Children's unique patient care mission and offer places that facilitate the delivery of world-class pediatric care. It will accommodate the latest research findings for cancer care, the infrastructure for delivering state-of-the-art care for critically-ill newborns, individual rooms, better family spaces and improved access to services. The plan was recently featured in a U.S. News & World Report article "Hospitals Redesigning Spaces to Boost Patient Health."
A new data center and generator building opened in February to provide faster connectivity in the new patient tower. It will support video needs and new technology such as desktop cameras for video conferencing, allowing employees to connect face-to-face for improved communication. In addition, the long-term goal is to offer patient education – and entertainment – through technology to enhance the patient experience.
"This project is about moving forward, reaching new heights and of course transforming care," says Debbie Feldman, president and CEO of Dayton Children's Hospital. "This new facility will help us continue to provide an excellent patient experience in the safest environment possible for generations to come."
For more information, contact:
Stacy Porter
Communications specialist
Phone: 937-641-3666
newsroom@childrensdayton.org