7/30/15news article
Dayton Children's welcomes new member of leadership team
Jayne Gmeiner named vice president for patient care services and chief nursing officer
Dayton Children's welcomes Jayne Gmeiner, MS, RN, NEA-BC, as the vice president for patient care services and chief nursing officer. As the chief nursing officer, Jayne supports the patient and family experience, leads strategic planning efforts for the nursing division and provides oversight of financial management for the nursing division. As the vice president for patient care services, Jayne provides operational oversight for all inpatient units including general pediatrics, the Almost Home Unit, hematology/oncology, pediatric intensive care and intermediate care units, newborn intensive care unit, perioperative services, the emergency department, nursing excellence, IV therapy and Children's Home Care of Dayton.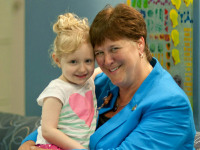 "I am excited to be a member of this great team at this pivotal time in health care in our community and nation," says Gmeiner. "It is a privilege to care for our future generations, providing them the most comprehensive and compassionate care close to home."
Prior to joining Dayton Children's, Jayne most recently held the role of director of professional practice at Premier Health System. She also held several leadership roles at Miami Valley Hospital over her 35 years of tenure including director of nursing excellence, director of integrated care management, and director of case management and staff development.
In her previous roles, she led the operations and development of Premier Health System's shared governance model, peer review, and facilitated alignment of policy and procedures to nursing's strategic goals, ensuring consistency across the system. Her previous experience also includes responsibility for leadership development, Magnet designation, patient-centered orientation, ongoing education, EPIC integration, nursing research programs, nursing recognition, disease management and palliative care programs.
"We are thrilled to have a professional of Jayne's caliber joining our senior leadership team," says Deborah Feldman, president and CEO. "Jayne's skill set and leadership vision for the profession of nursing will be a strong asset in helping us achieve our Destination 2020 goals."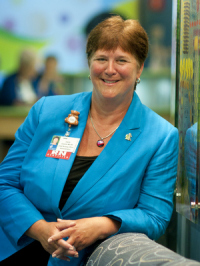 "Dayton Children's has an excellent reputation based on a commitment to providing excellent patient care while recognizing that families are actually an extension of the patient and the needs of both are equally important," says Gmeiner. "This organization is pivotal to the success of the Dayton region as we are providing the health care safety net and foundation for its future."
Jayne's career accomplishments include:
Leading Miami Valley Hospital to Magnet® designation for nursing excellence in 2004 and redesignation in 2008 and 2013.
Leading efforts to reduce Hospital Acquired Conditions (HACS) by 40 percent within 12 months, two years in a row.
Overseeing the complete continuum of care for patients including care coordination, discharge assessment/planning, home resources upon discharge and outcomes management.
Participating in nursing excellence fundraising efforts, securing more than $1.1 million for the 13,000-square-foot Center for Nursing Excellence.
Participating in the Ohio Action Coalition, led by the Ohio League for Nursing and the Ohio Hospital Association, to create innovative solutions where nurses are leading the way to address Ohio's health challenges.
Serving as a member of the American Organization of Nursing Executives and president of the Dayton Ohio Organization for Nursing Executives, growing membership by 25 in one year and implementing a centralized website in conjunction with GDAHA for review of nursing students, instructors and hospitals.
Jayne holds a master's of science in nursing administration and a bachelor's of science in nursing, both from Wright State University. Jayne's evidence-based research in the profession of nursing has been published in the Journal of Nursing Administration, Heart and Lung and the Journal of Health Administration.
For more information, contact:
Stacy Porter
Communications specialist
Phone: 9370641-3666
porters@childrensdayton.org