10/5/15news article
time to get your flu vaccine - Dayton Children's treats its first confirmed case of the flu for the season
The leaves have hardly started to turn and already Dayton Children's treated the first verified case of the flu for the 2015-2015 season. While it may seem early, the flu season is unpredictable and can start as early as October.
Dayton Children's is sharing this information to help parents prepare and keep their families safe from the flu. There are several things you can do to minimize your risk of getting the illness.
Get the vaccine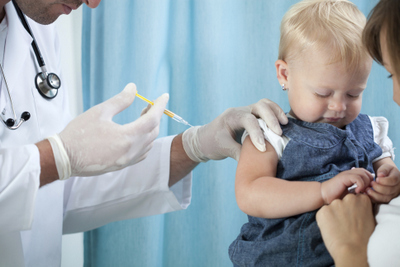 "One of the best preventative measures for the flu is to get your child vaccinated, and to do so early," says Sherman Alter, MD, medical director of the infectious disease division at Dayton Children's. "It takes about two weeks after vaccination for your child to be protected, which is why it is especially important to do it now rather than later when the flu hits your neighborhood."
The Centers for Disease Control and Prevention (CDC) strongly recommend that anyone age 6 months or older have the vaccine. "In addition, it is very important to vaccinate close contacts of children younger than 5 years of age, especially infants younger than 6 months, and close contacts of children with underlying chronic medical conditions, such as asthma, diabetes, congenital heart disease, neurologic disorders or those with compromised immunity," says Dr. Alter. "This would include parents and other family members." According to the CDC, twenty thousand of those hospitalized for the flu are children younger than 5 years old.
Wash your hands
The flu virus is pretty social – it likes to share. Whenever children are in close contact, their risk of getting sick increases, as the flu is spread by touching contaminated items or through the air. Practicing good hygiene will decrease a child's chances of getting sick.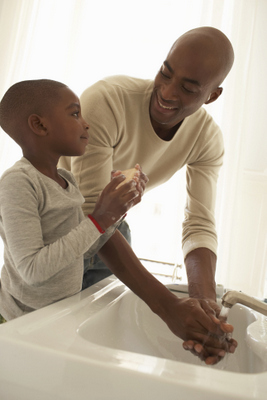 "To minimize the germs passed around, make frequent hand washing a rule for everyone," says Dr. Alter. "Key times for hand washing include before eating and cooking, after using the restroom, after cleaning the house, after touching animal and family pets, before and after visiting sick friends or relatives, after being outside and after blowing one's nose, coughing or sneezing."
Tips to remember include:
Use soap and build up a good lather
Wash for 20 seconds – enough to sing Happy Birthday twice
Pay special attention to the backs of hands, between fingers and under the nails
Cover your cough
Be sure to cover your cough with a tissue or your arm, not your hand. Throw away all used tissues immediately. Get plenty of rest and eat well to keep the body's immune system strong
What if my child gets the flu?
Even if you follow all the precautions, a child may still come down with the cold or flu. How do you know which is which?
The flu: High fever, chills, muscle aches, headache, cough (sometimes severe), exhaustion, loss of appetite and sore throat. The cold: Low fever if any, runny nose, little coughing; child's appetite and energy level are usually not affected.
Dr. Alter says the best way to treat children who have the flu is to make sure they get extra rest, drink plenty of fluids and eat light, easy-to-digest foods like applesauce. Go to your pediatrician, family doctor or urgent care if you have any concerns about the flu.
"Parents should pay close attention to children younger than 2 years old because they have smaller airways and cannot handle illness as well as older children or adults would," says Alter. "Parents should contact a pediatrician if children have any serious symptoms."
If your child has any of the following symptoms, they should be taken to the Emergency Department:
Fast breathing or trouble breathing
Bluish or gray skin color
Not drinking enough fluids
Not waking up or not interacting (not responding to your voice or making eye contact)
Being so irritable (cranky) that he or she does not want to be held
Not urinating (peeing) or no tears when crying
Symptoms improve, but soon return with worse cough and fever
For more information visit our Flu Center.
For more information, contact:
Stacy Porter
Communications specialist
Phone: 937-641-3666
newsroom@childrensdayton.org