7/5/13news article
Dayton Children's PICU nurse receives DAISY Award for nursing excellence
Reilly Butler, BSN, RN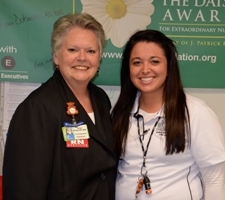 Dayton Children's Hospitalis pleased to announce that Reilly Butler, BSN, RN,is this quarter's recipient of the DAISY Award for nursing excellence.  The DAISY Award recognizes nurses for their extraordinary acts of compassion and excellence in their works with patients, families, the community and their co-workers. Any nurse in any role at Dayton Children's is eligible for a DAISY Award.
Butler of Bethel Township is a staff RN in the pediatric intensive care unit (PICU) and a member of the transport mobile intensive care unit (ICU) team.  She worked at Dayton Children's from December 2006 to September 2011 and returned in July 2012 after realizing how much she missed the Dayton Children's community.
She received two outstanding nominations from staff:
"You never want to experience the loss of a patient, but when I did, she took the time to show me the right processes to follow, who I needed to contact, and she took the time to help with the care of the deceased patient.  During such an emotional and sensitive time, it was a true blessing to have her take the time to help the way she did.  She is an amazing nurse and deserves recognition for all she does!"
"This nurse was assigned as transport for the night. She found out that another unit had a patient that was going to pass away. She took the initiative and called the unit to see if they needed any help.  Once the child passed, she came to this unit and assisted for many hours with the post mortem care, as well as assisted the nurse with all the paper work.  Her kind and gentle nature was very much appreciated. Her willingness to sit down with the nurse and show her everything that needed to be done was amazing. Her actions were above and beyond what her role was that night.  She was committed to helping her fellow nurses."
Upon receiving her award, Butler was both speechless and humbled.
"I was, and still am speechless (which is something that is very hard to achieve with me). The pictures of my reactions show how surprised I truly was! I had absolutely no idea what was going on!  I feel very honored to represent the amazing PICU/Transport Nurses. What I did to be nominated for the DAISY Award is something that many of the other nurses I work with would do without thinking twice. I am grateful I had the opportunity to be of assistance to the staff in Hem/Onc while they were caring for a patient in a very tender situation."
Butler enjoys traveling as often as possible, blogging, recreationally shooting guns, learning about photography, cooking, enjoying the outdoors, kicking items off her bucket list and spending time with friends, family and co-workers.  "I love a good adventure and the opportunity to find the joy in the journey," says Butler.
Nominations for the DAISY Award can be made by anyone and are taken year round. The award is chosen by The Systems Council at Dayton Children's and is presented quarterly.
The DAISY award may be given to any Dayton Children's nurse, in good standing, who exemplifies the following:
Works collaboratively with others
Serves as a role model for the nursing profession
Communicates clearly and effectively with all coworkers and patients/families
Functions as an integral member of a team
Creates an encouraging environment for others to learn
Generates enthusiasm and energy towards meeting the challenges of nursing
Works with others to achieve common goals and effect positive change
Develops key relationships with others—including patients and families
Demonstrates excellent interpersonal skills with peers and co-workers
Models empathy and demonstrates a caring attitude in all situations
Demonstrates a commitment to the goals and mission of Dayton Children's
Strives to go above expectations in their role within Dayton Children's
Commitment to the highest standards of nursing
About The DAISY Foundation
DAISY is an acronym for Diseases Attacking the Immune System. The DAISY Foundation was formed in November, 1999, by the family of J. Patrick Barnes who died at age 33 of complications of Idiopathic Thrombocytopenic Purpura (ITP).The Foundation works to honor nurses, fund nursing research and honor nursing faculty. For more information please visit http://daisyfoundation.org/
For more information, contact: 
Grace Rodney 
Marketing Communications Specialist 
Phone: 937-641-3666 
marketing@childrensdayton.org