3/24/15news article
Dayton Children's photo selected as highlight of the 2015 Children's Hospital Photo Exhibit
up and running is a powerful reminder of why all kids need a great children's hospital close to home
The Children's Hospital Association selected Dayton Children's photo of Grace Norman to headline its 2015 Photo Exhibit. Judges chose 50 top photos from 250 submitted pictures from 57 children's hospitals based on their high quality and ability to capture the mission of children's hospitals. These photos put a face on the care provided at children's hospitals and what it means to the patients, families and caregivers.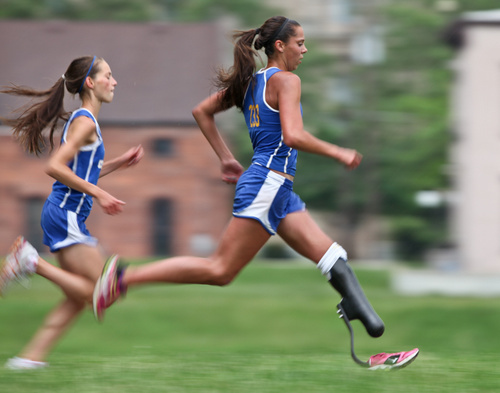 This photo showcases 16-year-old Grace Norman suspended in the air as she races along a track at Troy High School last summer. It was originally taken by Mark Lyons of Lyons Photography as part of an article on Grace for Dayton Children's magazine, Growing Together. Now as part of the Children's Hospital Association exhibit, it will be displayed this summer on Capitol Hill in Washington, DC, in conjunction with the Speak Now for Kids Family Advocacy Day. That day focuses on letting lawmakers see what a difference children's hospitals have made in the lives of patients to guide their decisions about public policy and health care.
As the photo shows, Grace runs with a "cheetah foot" – a prosthetic leg made of carbon fiber that absorbs shock when she lands on it and then converts that energy to help her push forward. She works with Michael Albert, MD, pediatric medical director of orthopaedics at Dayton Children's to properly align the foot made by John Brandt with Optimus Prosthetics in Dayton.
Grace was fitted for her first prosthetic at 13 months old, after suffering from a condition that affects just .1 percent of newborns called congenital constriction band syndrome. However, when she began to run competitively in seventh grade, she found the prosthetic held her back. A visit to the U.S. Paralympic Trials in Indianapolis a few years ago encouraged her to check out other options.
"The first time I tried on my cheetah foot, I flew forward with such speed and bounce, I scared myself," Grace said. "Before it felt like I was running on a block of wood. For the first time in my life I could flex my foot. It was like running on air. I remember thinking to myself, 'I wonder how fast this thing can go?'"
Fast enough to dream big. Grace dropped three minutes from her time just 48 hours after receiving the cheetah foot. She is now training with the hope to be part of the 2016 Paralympic Games in Rio de Janeiro. She was recently contacted by the USA Paralympic track and field committee about running the 400-meter event, which will be offered for the first time in Rio, and the triathlon.
"Grace has a 'take-on-the-world,' competitive attitude," explains Robin Norman, Grace's mother and track coach at Xenia Christian where Grace is a junior. "With race times faster than many runners with two legs, people have stopped assuming that she's slow."
"When I run, something indescribable takes over, an energetic power that wasn't there before," shares Grace. "It's a gift from God too valuable to measure."
Read Grace's full story in Growing Together.
See the 2015 Children's Hospitals Photo Exhibit.
For more information, contact:
Stacy Porter
Communications specialist
Phone: 937-641-3666
porters@childrensdayton.org