6/13/13news article
Dayton Children's photo featured on Capitol Hill
Children's Hospital Association 2013 photo exhibit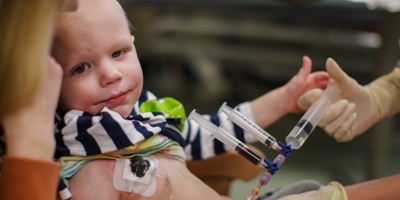 A photo of Dayton Children's Hospital cancer patient Eli Leingang will be displayed on Capitol Hill in Washington D.C. this month. The photo was chosen this year for the Children's Hospital Association 2013 Photo Exhibit (CHA), featuring 49 award-winning photographs of children receiving care at children's hospitals.
The exhibit which is being sponsored by Ohio Senator Sherrod Brown will be on display for public viewing in the Rotunda of the Russell Senate Office Building from June 17-21, 2013.
According to CHA, "The collection of powerful images showcases the connections among patients, families, health care providers, support staff, community partners and the countless other people whose lives are part of the story of care. Now in its 20th year, the biennial photo competition and exhibit draws more than 250 entries from photographers worldwide. The exhibit will be on tour throughout the U.S. for the next two years."
The photo of Eli was taken in January 2012 while filming for Dayton Children' Right Care video and commercials. At age 20 months, Eli was diagnosed with Acute Lymphoblastic Leukemia (ALL). Since then, Eli has seen Mukund Dole, MD at Dayton Children's for his ongoing treatment.
Today, Eli is doing very well and enjoys his life the way a 3-year-old boy should. Because he was diagnosed at such a young age, his treatments have become routine and normal for him. Even though he has another year of treatment, his parents feel very secure in his development.
About Children's Hospital Association
The Children's Hospital Association advances child health through innovation in the quality, cost and delivery of care. Representing more than 220 children's hospitals, the Association advances public policy enabling hospitals to better serve children, and is the premier resource for pediatric data and analytics driving improved clinical and operational performance of member hospitals.
For more information, contact: 
Grace Jones
Marketing Communications Specialist 
Phone: 937-641-3666 
marketing@childrensdayton.org