1/28/13news article
Dayton Children's named a top workplace locally and nationally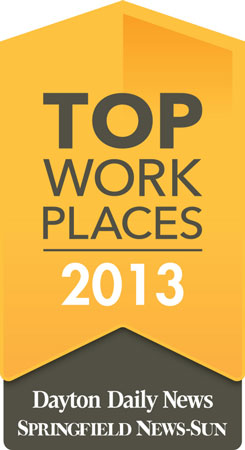 Dayton Children's has been chosen regionally as a Top Workplace in this year's Dayton Daily News/Springfield New Sun "Top Places to Work."
Regional results were published in the "Top Places to Work" section of the Dayton Daily News and Springfield News Sun on Sunday, January 27, 2013. This is the second year in a row Dayton Children's has been honored as a Top Workplace in the Dayton region.
Dayton Children's is also one of two companies in Dayton namedone of America's Top 150 Workplaces by Workplace Dynamics among 872 participating organizations across the country.
This recognition is the result of a survey completed by Dayton Children's employees. The survey measures employee engagement, organizational health and employee satisfaction. Survey questions focused on qualities such as company leadership, compensation and training, workplace flexibility and diversity.
For more information, contact: 
Grace Rodney 
Marketing Communications Specialist 
Phone: 937-641-3666 
marketing@childrensdayton.org