2/25/15news article
Dayton Children's issues a safety alert, after children suffer serious injuries while sledding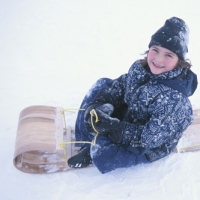 Several children have had injuries from sledding so severe that they had to be admitted to Dayton Children's in recent days. Dayton Children's experts want to warn parents about the dangers that children can find on the snowy hills, in the hopes of preventing more injuries.
While sledding is a great way to enjoy the snow, children can be seriously hurt or even killed if they hit their head or spine. Sleds can reach up to 25 miles an hour so any impact at that velocity can do a great deal of damage.
Thousands of kids go to emergency departments nationwide every year after sledding accidents but with a little preparation, you can avoid this.
pick the sledding spot carefully.
"The hill should not be too steep," says Lisa Schwing, RN, trauma program manager at Dayton Children's. "Look for one that also has a long flat area at the bottom for your kids to glide to stop."
Make sure the hill and its landing zone are free of the following items:
Streets
Parking lots
Ponds or rivers
Fences
Poles
Trees
Rocks
Other hazards
be prepared with proper gear.
Parents need to choose sledding gear carefully. While almost anything can be used as a sled, a commercially-made sled is the best choice. "At the store, parents will see that different ages require different types of sleds," says Schwing. "For example, a 5 year old should not be on a sled meant for a 12 year old. Steering mechanisms also are important so children can have control."
Helmets are strongly recommended. Most of the injuries from sledding impact the head and neck. Dress children warmly, as well. Layers hold in heat better than one bulky item. Choose waterproof coats, snow pants, boots and gloves and cover heads and ears with a hat. Check on children every 20 minutes for signs of frostbite or hyperthermia. If temperatures drop into single digits, find an indoor activity instead.
make sure everyone knows the rules.
Once they are staring down that snowy hill, temptation can be too great for a child to ignore. That's why parental supervision is critical. "Children under the age of 12 need an adult to be watching at all times," says Schwing. "Kids younger than five should have an adult on the sled with them." No one, regardless of age, should ever sled alone.
A child should always sit when sledding. They should never sled head first. This is how many of the worse injuries happen. Facing backward or standing up should also not be allowed. Older children should never double up on a sled, unless the sled was designed for multiple riders.
Kids can be hurt by running into other people on the hill, as well as hitting objects, so restrict runs to one person at a time. Teach them that if they're on a sled that won't stop, to roll off it and move out of the way of oncoming sledders. Climb back up the hill out of the sledding lanes.
For more information, contact:
Stacy Porter
Communications specialist
Phone: 937-438-9579
porters@childrensdayton.org