8/2/13news article
Dayton Children's Hospital receives "gold" from The Commission on Cancer
Dayton Children's Hospital has been awarded a three-year national re-accreditation with commendation to the cancer program by The Commission on Cancer (CoC) of the American College of Surgeons (ACoS).
More than 1,500 U.S. cancer programs are CoC accredited and the comprehensive cancer care program at Dayton Children's is one of only 10 freestanding pediatric institutions in the country to be accredited.
To earn voluntary CoC accreditation, a cancer program must meet or exceed in 34 categories of quality and patient-centered care.  As a CoC-accredited cancer program, Dayton Children's demonstrates an important commitment to providing all patients with access to services they need from diagnoses through treatment, rehabilitation and survivorship care.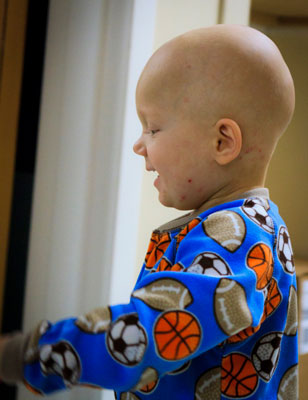 Dayton Children's received gold status, which is awarded to programs that are commended in seven out of eight areas such as cancer program management and reporting to protocols, clinical trials and patient outcomes.
Commission on Cancer surveyor, Arnold H. Herman, MD, FACS, praised Dayton Children's physicians and staff for developing such an excellent cancer program and applauded their efforts to further improve current processes.
He gave special praise for the survivorship program, as well as the program's efforts to increase the number of certified pediatric hematology/oncology nurses on staff.  Dr. Herman recommended that Dayton Children's submit some of its processes to the ACoS as best practices, paving the way for other facilities and future cancer patients.
 "This accreditation recognizes the quality cancer program available for children in our region," says Emmett Broxson, MD, medical director of hematology/oncology at Dayton Children's. "It allows us to have access to more outstanding resources, giving our pediatric cancer patients the best possible care to improve outcomes.
Accreditation also provides patients with information on clinical trials and new treatment programs, genetic counseling and patient-centered services, such as patient navigation to help coordinate the patient's care and a survivorship care plan.
Another benefit of accreditation is contribution – and access to – the National Cancer Data Base, the largest clinical disease registry in the world. Access to this information allows Dayton Children's to provide world-class cancer care.
Last year, Dayton Children's treated 57 newly diagnosed patients with cancer. Leukemia was the most common diagnosis.
About the Comprehensive Care Center for Cancer and Blood Disorders
The Comprehensive Care Center for Cancer and Blood Disorders cares for children, teens and young adults, through 21 years of age. Dayton Children's pediatric cancer program partners with the Children's Oncology Group and follows nationally approved protocols for cancer treatment. This allows us to provide the infants, children and teens treated at Dayton Children's with the most current, state-of-the-art cancer treatments available.
A multidisciplinary approach ensures that our team is prepared to meet both the medical and psychological needs of patients and their families. All children are treated regardless of ability to pay.
About the American College of Surgeons Commission on Cancer
Established in 1922 by the American College of Surgeons, the Commission on Cancer is a consortium of professional organizations dedicated to improving patient outcomes and quality of life for cancer patients through standard-setting, prevention, research, education, and the monitoring of comprehensive, quality care.  Its membership includes Fellows of the American College of Surgeons.
 For more information, visit: www.facs.org/cancer
For more information, contact: 
Grace Jones
Marketing Communications Specialist 
Phone: 937-641-3666 
marketing@childrensdayton.org