1/6/14news article
Dayton Children's Hospital launches sports medicine service for young athletes
Dayton Children's Hospital announced today the launch of a new service line—sports medicine with a focus on treatment of sports injuries in young athletes. The Dayton Children's sports medicine team is specially trained in pediatrics and understands how an injury may impact growth, or how growth might impact rehabilitation. 
"Kids' injuries, especially sports injuries, are not the same as adults'," says Lora Scott, MD, medical director of primary care sports medicine. "We saw a need for pediatric sports medicine in the Dayton region and wanted to fill it."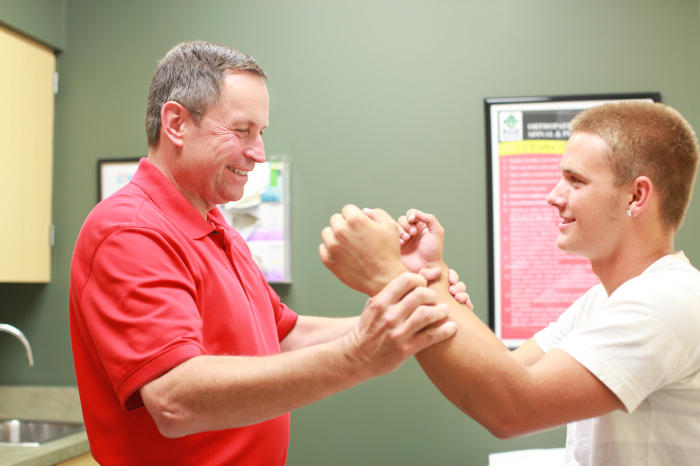 Beginning today Dayton Children's will offer sports medicine services for children and teens in two locations, the outpatient center at Dayton Children's main campus and also at its Springboro location.  The space at its main campus will include a rehabilitation area, four exam rooms, reception area, a throwing/hitting lane, on-site imaging, and a bracing lab.  The team will utilize the urgent care space in Springboro which includes 10 exam rooms as well as access to on-site rehabilitation services and medical imaging.
The new sports medicine program will offer a variety of services including:
Same-day or next-day appointments
Sports physical therapy
Concussion management program
Neurocognitive concussion testing- post concussion testing along with FREE preseason baseline testing
Management of non-surgical musculoskeletal injuries- with referral to pediatric sports orthopaedic surgeons when needed
Established Monday afternoon walk-in sports medicine fracture clinic (main campus  location)
Consultations regarding sports nutrition, sports psychology, sports-related breathing issues, injury related complications, and return to sport evaluations
"Our program offers young athletes the opportunity to see specialists who know the growing body, instead of physicians and facilities that typically treat fully grown athletes and adults," says Jeff Mikutis, MD, surgical director of sports medicine. "These young athletes still have open growth plates and are still developing and growing physically and psychologically.  They cannot be cared for the same as an adult.  They require the specialized care only available at Dayton Children's."
To contact the sports medicine specialists at Dayton Children's please call 937-641-3939. For more information visit: www.childrensdayton.org/patients-visitors/services/sports-medicine.
about the Sports Medicine Team  
Dr. Lora Scott is the medical director of primary care sports medicine. She fellowship trained at Cincinnati Children's Hospital in pediatric sports medicine and worked as a team physician for the University of Cincinnati Bearcats after completion of her fellowship. For the last two years, Dr. Scott has served as the medical director for Dayton Children's Urgent Care.  
Dr.  Jeffrey Mikutis is the surgical director of sports medicine and trained with the team physician for the Cincinnati Reds, Dr. Timothy Kremchek. He fellowship trained in pediatric orthopaedics at Nemours Children's Clinic in Jacksonville, Florida. Dr. Mikutis has been a part of the Orthopaedic Center for Pediatric and Spinal Care at Dayton Children's since 2004.
For more information, contact: 
Grace Jones 
Marketing Communications Specialist 
Phone: 937-641-3666 
marketing@childrensdayton.org