6/17/15news article
Dayton Children's Hospital joins Evenflo to offer car seat inspections
certified technicians help parents correctly use and install car and booster seats
Dayton Children's Hospital in partnership with Evenflo urges parents and caregivers to make sure their car seats and booster seats are properly installed. On Friday, June 19, these groups will team up and have certified child passenger safety technicians available to provide hands-on instruction on installing car and booster seats at the Evenflo Headquarters, 225 Byers Road, in Miamisburg from 1:00 - 3:00 pm.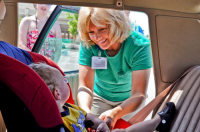 "Correctly used, child safety seats can reduce the risk of death by as much as 71 percent," said Jessica Saunders, director of the Center for Child Health and Wellness at Dayton Children's Hospital and coordinator of Safe Kids Greater Dayton. "We want all parents to make sure their car seats are used and installed correctly and that the whole family is buckled up every time on every ride. And we're here to help."
Car seat inspections offer drivers the chance to receive assistance and guidance from certified car seat technicians regarding proper installation of their child safety and booster seats.
"We are pleased to have many nationally certified car seat technicians on our team," said Sarah Haverstick, safety advocate at Evenflo. "We are committed to providing education and raising awareness about the importance of keeping children safe in vehicles."
Certified child passenger safety technicians are available to help or double check your work. Parents and caregivers can locate an event in their community by visiting the Safe Kids website at safekids.org.
About Evenflo Company, Inc.
Evenflo Company, Inc. is a worldwide leader in the development of innovative infant equipment and is now one of the United States' leading manufacturers of high quality infant and juvenile products. Evenflo product offerings span a broad range of categories, including car seats, strollers, high chairs, play yards and activity products. As a top supplier to key retailers, the Evenflo brand name maintains 96% awareness with consumers. For more information on Evenflo, visit www.evenflo.com.
About Safe Kids Greater Dayton
Safe Kids Greater Dayton works to prevent unintentional childhood injury, the number one cause of death for children in the United States. Safe Kids Greater Dayton is a member of Safe Kids Worldwide, a global network of organizations dedicated to preventing unintentional injury. Safe Kids Greater Dayton was founded in 1994 and is led by Dayton Children's Hospital.
For more information, contact:
Stacy Porter
Communications specialist
Phone: 937-641-3666
porters@childrensdayton.org