1/22/14news article
Dayton Children's gastroenterology nurse receives DAISY Award for nursing excellence
Tracy Lemaster, BSN, RN
Dayton Children's Hospital is pleased to announce that Tracy Lemaster, BSN, RN, is this quarter's recipient of the DAISY Award for nursing excellence. The DAISY Award recognizes nurses for their extraordinary acts of compassion and excellence in their works with patients, families, the community and their co-workers. Any nurse in any role at Dayton Children's is eligible for a DAISY Award.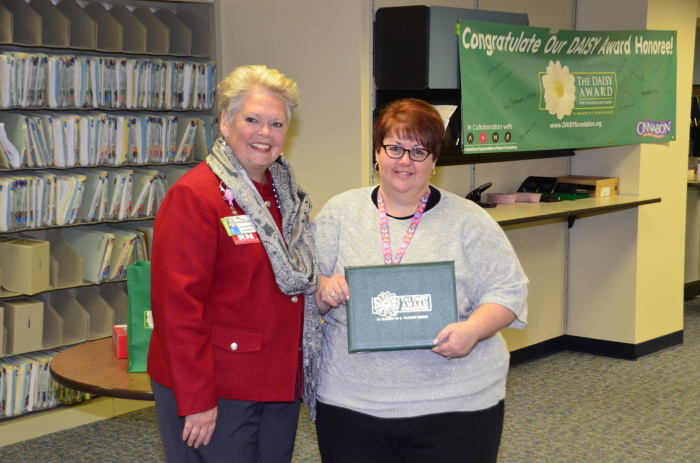 Lemaster, from the Riverside/Huber Heights area, has worked at Dayton Children's for over 23 years. She started at Dayton Children's in 1988 as a nursing student and returned as a registered nurse (RN) in 1990. She has worked on the impatient units, Children's Health Clinic, endocrinology and is currently working in the gastroenterology department.
"With more than 20 years of nursing experience at Dayton Children's, Tracy is an example of nursing practice at the expert level and it shows in her daily work. She is a phone triage nurse and each and every call she manages is treated as special and significant" says her nominator.
A family was on their way home from the hospital when the mother started questioning her child about possible sexual abuse. When she heard the story from the child regarding the matter, she quickly called the hospital. Lemaster received the call from the scared mother.
"She called in the depths of despair and was helped by Tracy.  As an expert at Dayton Children's, she knew exactly what needed to be done and how to do it. She was professional, confident and competent in giving the parents all the direction and resources they needed to manage this sensitive situation. The mother was tearful, fearful and felt hopeless when she called Tracy. After speaking with Tracy, this mother was confident, empowered and informed.  At Dayton Children's, family-centered care by professionals is what we do. I am proud to work with this nurse and nominate her for the Daisy Award."
Upon receiving the award, Lemaster said, "I felt honored and appreciative. I try to live my life every day the way Maya Angelou described, 'I've learned that people will forget what you said, people will forget what you did, but people will never forget how you made them feel.'"
In her free time, Lemaster enjoys knitting, gardening and decorating.
Nominations for the DAISY Award can be made by anyone and are taken year round. The award is chosen by The Systems Council at Dayton Children's and is presented quarterly.
The DAISY award may be given to any Dayton Children's nurse, in good standing, who exemplifies the following:
Works collaboratively with others
Serves as a role model for the nursing profession
Communicates clearly and effectively with all coworkers and patients/families
Functions as an integral member of a team
Creates an encouraging environment for others to learn
Generates enthusiasm and energy towards meeting the challenges of nursing
Works with others to achieve common goals and effect positive change
Develops key relationships with others—including patients and families
Demonstrates excellent interpersonal skills with peers and co-workers
Models empathy and demonstrates a caring attitude in all situations
Demonstrates a commitment to the goals and mission of Dayton Children's
Strives to go above expectations in their role within Dayton Children's
Commitment to the highest standards of nursing
About The DAISY Foundation
DAISY is an acronym for Diseases Attacking the Immune System. The DAISY Foundation was formed in November, 1999, by the family of J. Patrick Barnes who died at age 33 of complications of Idiopathic Thrombocytopenic Purpura (ITP).The Foundation works to honor nurses, fund nursing research and honor nursing faculty. For more information please visit http://daisyfoundation.org/.
For more information, contact: 
Grace Jones 
Marketing Communications Specialist 
Phone: 937-641-3666 
marketing@childrensdayton.org