5/1/09news article
Dayton Children's congratulates 2009 Nurse's Week award winners
Dayton Children's is pleased to announce its 2009 Excellence in Nursing Award winners
Facilitator of Learning- Patty Ducharme
Facilitates patient and family education through the development of patient-driven education planning.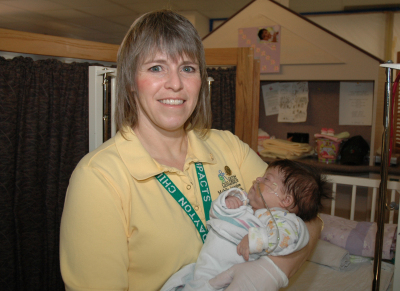 Clinical Judgment - Sara Adducchio
Functions independently and utilizes sound decision making skills. Demonstrates excellent critical thinking skills. Has strong clinical skills that are acquired through both formal and experimental knowledge.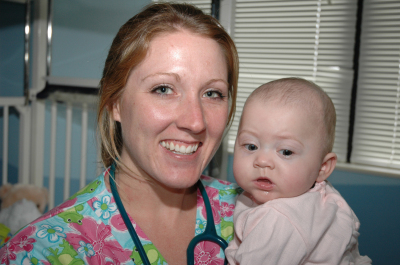 Systems Thinking - Hila Collins
Knows how to negotiate and navigate through the system on behalf of patients and families. Anticipates the needs of the patient and family and utilizes untapped and alternate resources as necessary.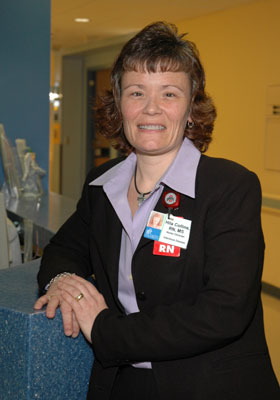 Outstanding New Grad - Caitie Post
Graduate nurse with less than one year of experience who excels in areas such as clinical care, teamwork, professionalism, advocacy, education, etc. 
Clinical Inquiry and Innovator/Evaluator - Pam Bucaro
Ongoing process of questioning and evaluating practice, providing informed practice and innovating through research and experimental learning. This nurse engages in clinical knowledge and development to promote best patient outcomes.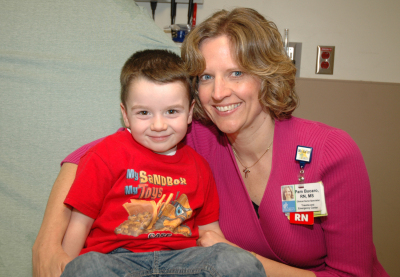 Response to Diversity - Leah Pitts
Interpersonal communication and behavior reflect respect for a diverse population of patients, families, peers and others.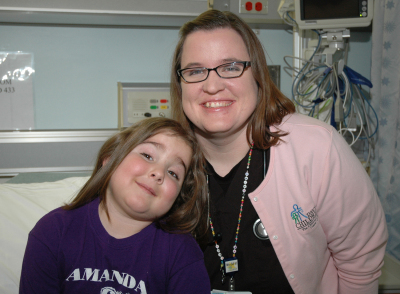 Advocacy/Moral Agency - Angela Minton
Works on another's behalf and represents the concerns of the patient, family and community. Identifies and helps resolve ethical and clinical concerns. 
Caring Practices - Kathy Chandler
Creates a compassionate and therapeutic environment for both the family and the patient, which promotes comfort and prevents suffering.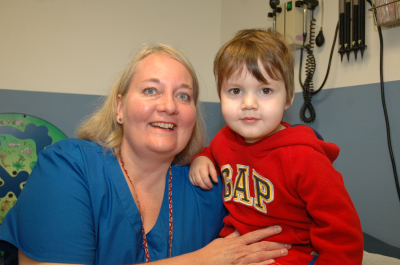 Collaboration - Erin Black
Works with others - patient, family and other health care providers to achieve optimal and realistic goals. Promotes a positive, team-oriented environment through attitude and behavior. 
collaborators of Caring awards 2009
Autonomous Professional Practice - Cecilia Vocke
This individual consistently supports the professional practice of nursing. They encourage nurses to maximize their skills and competencies, and to deliver care within the scope of the nursing practice guidelines. They support autonomous and professional behaviors by the nurse. 
Collaboration - Vicki Giambrone
This individual is known as a collaborator. They seek out the opportunity to improve service, demonstrate respect for all members of the care team, and through their interactions, promote collaboration in the delivery of patient care. 
Education - Merille Cox, MD
This individual routinely and consistently supports clinical education for the nurses. He participates in educational opportunities, encourages nurses to develop evidence-based practice and makes a contribution to the overall delivery of care. 
SPIRIT Standards - Tony Hill
This individual is a pleasure and a joy to work with. They exemplify all of Dayton Children's SPIRIT standards and contribute to an atmosphere of cooperation and collaboration. 
IMPACTS - Dayton Children's clinical advancement program
Nurses that advanced fall 2009: 
Level II
Erin Black
Patty Ducharme
Kim Erker
Therese Gibble
Elaine Markland
Judy Miller
Sasha Mosel
Jennifer Napier
Theresa Slater
April Surber
Colleen Thompson
Kim Williams
Tammy Witwer
For more information, contact: 
Marketing Communications Department 
Phone: 937-641-3666 
marketing@childrensdayton.org