5/30/13news article
Dayton Children's celebrates 31 years of the Children's Miracle Network Hospitals Telethon
new ambassadors announced for the upcoming year
New ambassadors for Dayton Children's Hospital will be introduced during the 31st annual broadcast of the Children's Miracle Network Hospitals Telethon on Saturday, June 1, and Sunday, June 2.
Ambassadors represent Dayton Children's at various events and programs throughout the year.
The new 2013-2014 ambassadors are:
Kayleigh Crabtree, 11, from Beavercreek was diagnosed with Acute Lymphoblastic Leukemia on August 20, 2010. Kayleigh underwent five rounds of chemotherapy under the care of Mukund Dole, MD at Dayton Children's. Kayleigh is a true philanthropist at heart and has helped to raise tens of thousands of dollars for pediatric cancer research during her battle with the disease. Kayleigh completed her last round of chemo in fall 2012 and is excited to be an ambassador so that she can help other kids at Dayton Children's!  
Kelsey Colins, 16, from Bellbrook was diagnosed with type 1 diabetes at age four.Since her diagnosis Kelsey has worked with physicians at Dayton Children's to help manage her diabetes by controlling her insulin intake and her dietary needs. Today Kelsey is seen by Moira Pfeifer, MD in the endocrinology clinic at Dayton Children's.   Recently Kelsey was also diagnosed with hyperthyroidism as well as Addison's disease. As a frequent flyer of the hospital, Kelsey also works with Dayton Children's physician Gregory Toussaint, MD, to help teach medical students what it means to be a good doctor from the patient's perspective.
Meghan Mays, 17, from Centerville was diagnosed with scoliosis at age six and began seeing Mike Albert, MD, orthopaedic surgeon at Dayton Children's. After nine years of wearing different back braces to try to fix the problem it was decided that Meghan would need surgery. Her back had gone from a 20 degree curve to 54 degrees. Dr. Albert performed spinal surgery on Meghan in December 2011 and placed two rods and 16 screws in her back to straighten her spine. Today Meghan is standing a little taller and is extremely active in cross country and working at multiple part-time jobs. Meghan wants to be a nurse when she grows up because of the amazing care the nurses at Dayton Children's gave her while she was here.
Kristopher Rodgers, 13, from Springfield has been living with a diagnosis of cystic fibrosis (CF) since he was six-months old.Since then he has been seen in the pulmonary clinic at Dayton Children's in order to manage this lifelong condition. As a young child Kristopher spent many days as an inpatient at Dayton Children's but today has gone seven years without having to be admitted. Kristopher has matured quickly and has learned how to manage and perform treatments for his CF on his own. Even though CF often makes it difficult for Kristopher to breathe sometimes he has not let this stand in his way. Kristopher recently began taking karate lessons and is already on his way to his purple belt!
About the Children's Miracle Network Hospital Telethon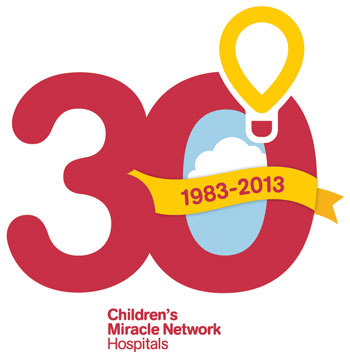 The telethon hosts are Channel 7's, Cheryl McHenry, Mike Hartsock and K99.1 FM's Nancy Wilson.
The telethon begins at 9:00 pm on Saturday, June 1, and ends at 6:00 pm on Sunday, June 2.  The broadcast will feature special kids who are connected to Dayton Children's and caregivers who treat the children.
"The broadcast truly is a celebration of the children in our care," says Debbie Butner, telethon manager at Dayton Children's.
"The telethon is also an opportunity to thank and recognize our sponsors and donors for their generous support. Their commitment helps us continue to provide the best pediatric care during a child's time of need."
Supporting the Children's Miracle Network helps ensure children throughout the Miami Valley receive the quality health care they deserve when they are treated at Dayton Children's.  Funds raised locally for the Children's Miracle Network Hospitals program benefit Dayton Children's. 
Viewers can make a donation by calling 1-888-746-KIDS (5437), or by donating online at www.childrensdayton.org/donate. You can also follow live updates on Dayton Children's Facebook and Twitter pages during the telethon - follow @DaytonChildrens to stay connected.
Current ambassadors whose stories will be featured during the telethon are Ethan Conley, Katie Hollingsworth, Awo Onwudiwe and Justin Skinner.  These four children have received treatment at Dayton Children's and have served as ambassadors over the past year.
For more information, contact: 
Grace Jones
Marketing Communications Specialist 
Phone: 937-641-3666 
marketing@childrensdayton.org