5/30/12news article
Dayton Children's celebrates 30 years of the Children's Miracle Network Hospitals telethon
new ambassadors announced for the upcoming year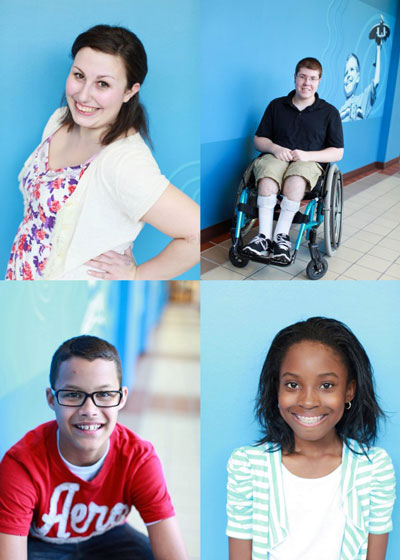 New ambassadors for The Children's Medical Center of Dayton will be introduced during the 30th annual broadcast of the Children's Miracle Network Hospitals Telethon on Saturday, June 2, and Sunday, June 3.
Ambassadors represent Dayton Children's at various events and programs throughout the year.
The new 2012-2013 ambassadors are:
Ethan Conley, 11, from Englewood came to Dayton Children's in January 2010 and was diagnosed with an extremely rare virus called viral myositis with rhabdomyolysis. Ethan spent 31 days at Dayton Children's. During this time he was unable to walk and had to be placed on dialysis. He spent 19 of those days in the pediatric intensive care unit fighting for his life. Thanks to the doctors at Dayton Children's and a strong faith, Ethan's body was able to fight off his virus. After going through physical therapy, Ethan was able to walk out of Dayton Children's and return to his normal life.
Katie Hollingsworth, 16, from New Paris was diagnosed with acute myelocytic leukemia (AML) when she was 14. AML is a form of leukemia that is not very common in children and has only 40 percent survival odds. Katie began seeing Dr. Broxson and underwent five rounds of chemotherapy. She faced a number of other complications throughout her treatments which required her to stay in the pediatric intensive care unit at Dayton Children's. Today Katie is in remission from her cancer and is a happy and energetic teenager.
Awo Onwudiwe, 11, from Dayton was born with sickle cell anemia. Sickle cell disease is an inherited disorder in which red blood cells (RBCs) which are normally round and flexible, are sticky, hard and shaped like crescent moons. Due to her sickle cell, Awo often experiences a lot of pain in her joints and bones. Awo sees Dr. Dole in the hematology and oncology clinic at Dayton Children's. Despite her illness, Awo has a very positive outlook on life and doesn't let her sickle cell slow her down.
Justin Skinner, 16, from Kettering was born with spina bifida, a birth defect that involves the incomplete development of the spinal cord or its coverings. Since birth Justin has had over thirty surgeries and has seen 14 different specialties at Dayton Children's. Even though his condition has required him to be on crutches or in a wheelchair, Justin is still extremely active. He has tried almost every sport that he could including soccer and baseball, but his real love is basketball. He also plays the French horn in his school's band.
The telethon hosts are Channel 7's, Cheryl McHenry, Mike Hartsock and K99.1 FM's Nancy Wilson.
The telethon begins at 9:00 pm on Saturday, June 2, and ends at 6:00 pm on Sunday, June 3.  The broadcast will feature special kids who are connected to Dayton Children's and caregivers who treat the children.
"The broadcast truly is a celebration of the children in our care," says Debbie Butner, telethon manager at Dayton Children's.
"The telethon is also an opportunity to thank and recognize our sponsors and donors for their generous support. Their commitment helps us continue to provide the best pediatric care during a child's time of need."
Supporting the Children's Miracle Network helps ensure children throughout the Miami Valley receive the quality health care they deserve when they are treated at Dayton Children's.  Funds raised locally for the Children's Miracle Network Hospitals program benefit Dayton Children's. 
Viewers can make a donation by calling 1-888-746-KIDS (5437), or by donating online at www.childrensdayton.org/donate. You can also follow live updates on Dayton Children's Facebook and Twitter pages during the telethon - follow @DaytonChildrens to stay connected.
Current ambassadors whose stories will be featured during the telethon are Colin Beach, Patrick Bleser, Kaitlyn Dove and Ghiman McKinney.  These children are treated at Dayton Children's and will share their experiences.
For more information, contact: 
Grace Rodney 
Marketing Communications Specialist 
Phone: 937-641-3666 
marketing@childrensdayton.org