3/27/13news article
Dayton Children's breaks ground on new CARE House building
Montgomery County to have new children's advocacy center in 2014
The Children's Medical Center of Dayton held a groundbreaking ceremony today for the new CARE House building, Montgomery County's children's advocacy center. The new CARE House will be located at 400 Valley St. next to Dayton Children's and is expected to open during the first part of 2014.
The CARE House 'Building a Promise' campaign committee chaired by Mat Heck, Montgomery County Prosecuting Attorney, was thrilled to see the project take this big step towards completion. The money for the campaign was raised thanks to numerous donations from many generous community members.  
"Thanks to the support and generosity of this community, we will have a child-friendly, state-of-the-art children's advocacy center to better serve sexually and physically abused children," said Heck.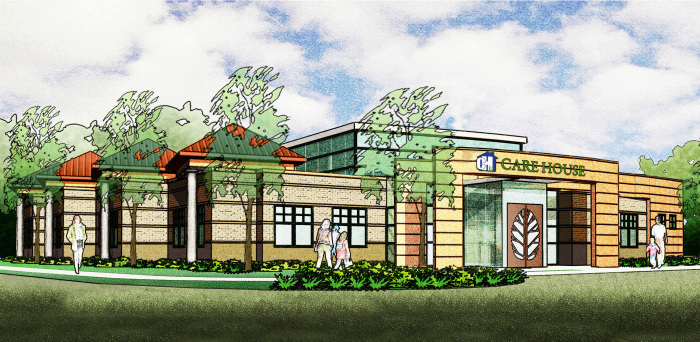 CARE House involves a partnership between Dayton Children's, Montgomery County Prosecutor's Office, Dayton Police Department, Montgomery County Sheriff's Office and Montgomery County Department of Job and Family Services. In addition to these founding partners, all law enforcement agencies in Montgomery County utilize CARE House for their child abuse investigations.
The groundbreaking comes just in time for the annual month long child abuse awareness campaign in April. Each day, 13 children are reported abused or neglected in Montgomery County- 13 children who have to relive their nightmare as they tell their painful story to those who will and need to listen. It's for the worst of these cases that CARE House exists. In 2012, CARE House served 616 families who had been affected by abuse.
The current CARE House is located in a more than 100-year-old Victorian-period home across the street from Dayton Children's.  The home no longer efficiently accommodates the growing number of children and families requiring advocacy services. 
"This campaign not only raised money to build a new facility, it also raised awareness around child abuse in our community," said Libby Nicholson, director of CARE House. "When the new CARE House opens, we will be able to provide better services to our families not only because of a new building but also because of increased community support."
The new center designed by architectural firm LWC Incorporated will double its current size and is expected to include:
A child-friendly reception area
Two sound-proof, child-friendly interview and observation rooms
State-of-the-art recording equipment
A case review room
Expanded space for mental health treatment
A multipurpose room for group therapy, support groups and prevention training
And much more! Download the campaign brochure  on the Dayton Children's website to find out what else the new facility will include!
About CARE House
Established in 1999, CARE House, the Montgomery County children's advocacy center, serves child abuse victims through a centralized, child-focused approach that brings together law enforcement, child protection services, prosecution, mental health experts, medical professionals and victim advocates to help reduce the trauma victims experience after abuse has been reported and serves more than 600 children a year, often the worst of the nearly 5,000 cases of abuse reported in Montgomery County each year. 
To learn more about CARE House please visit www.thecarehouse.org or 'like' CARE House on Facebook!
For more information, contact: 
Grace Rodney 
Marketing Communications Specialist 
Phone: 937-641-3666 
marketing@childrensdayton.org