7/7/15news article
Dayton Children's announces major expansion of Springboro campus
growth will provide convenient access to pediatric specialty care and emergency services
Families in Springboro and the surrounding southern suburbs will soon have even quicker and more convenient access to a broader range of world-class pediatric care for their children all in one location. Today, Dayton Children's is announcing a major expansion of its Springboro Outpatient Care Center and Urgent Care.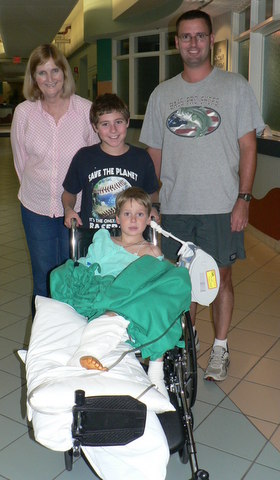 Dayton Children's will build an ambulatory destination center on the 11-acre Springboro campus. In addition to the services already offered there, this expansion will include:
115,100 square feet total, which is an additional 95,000 square feet added to the campus
A medical office building for pediatric specialists and primary care physicians
A 16-room pediatric emergency department
An outpatient surgery center with four operating rooms
The expansion is based on the growing need for services in our southern communities. This area has one of the highest percentages of children younger than age 5 in the Dayton region and continues to grow every year.

"We are listening to our patient families who consistently tell us they want more services closer to home," says Deborah A. Feldman, president and CEO. "Expanding our Springboro campus will provide the world-class pediatric care for children that they deserve, right in their backyard. It is all part of our Destination 2020 plan to advance our role as the leader in children's health."
Kelly Poplin is the Springboro mother of one of those families. Her son, Evan, was in a utility vehicle accident when he was just six years old. His right arm and leg were broken in several places and he was rushed to Dayton Children's emergency department on the main campus. While she knows his injuries were so extensive he would have had to go to the hospital anyway, she says getting to expert medical care faster always eases a parent's mind.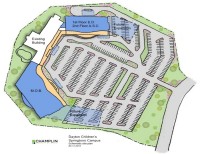 "Knowing that soon the quality, compassionate care of Dayton Children's emergency teams and specialists will be right in my backyard, should anything happen again, makes me feel safer," Kelly says. "And when you have an accident like Evan had, it's not just the immediate, emergency care. It's five surgeries and dozens of doctor visits to Dayton Children's specialists. Being able to have those services five minutes down the road, no matter what he needs, is priceless. I know parents in the suburbs around Springboro will really appreciate that."
Hear more from Deborah and Kelly:
Synergy Building Systems will lead the construction efforts of the Springboro expansion. Champlin Architecture, the local architectural firm which designed the original building at this location, will provide design leadership on this project. Cindy Burger, MS, RN, vice president, will oversee the project for Dayton Children's.
The two-year plan will have phased implementation of services. The medical office building is scheduled to open in one year, the emergency department in 18 months and the surgery center within two years. The 115,100-square-foot expansion is estimated at a cost of $47.5 million. The medical office building will house Dayton Children's specialists in our highest demand services, such as neurology, gastroenterology, orthopaedics and endocrinology, as well as primary care physicians.
The Springboro Outpatient Care Center already offers a variety of services for the community. Dayton Children's Urgent Care is located in this space as well as a full complement of testing services including pathology, X-rays, MRIs, and CT scans with software designed to minimize radiation for growing bodies. In addition, the rehabilitation department offers physical and occupational therapy, audiology and sports medicine services. All of the services are delivered by a staff specially trained to care for babies, children and teens and customized for their special needs, both medically and emotionally.
"Children are not just little adults," says Feldman. "Their growing bodies need different treatments and care than adults do. Our experts have the knowledge and skill to treat their health concerns with compassionate, comprehensive care that ensures the very best outcome. So we want to make sure that every child in our area can get to those experts as easily as possible."
For more information, contact:
Stacy Porter
Communications specialist
Phone: 937-641-3666
porters@childrensdayton.org