3/21/13news article
Dayton Children's nurse receives DAISY Award for nursing excellence
The Children's Medical Center of Dayton is pleased to announce that Rachelle Musselman, RN is this quarter's recipient of the DAISY Award for nursing excellence.The DAISY Award recognizes nurses for their extraordinary acts of compassion and excellence in their works with patients, families, the community and their co-workers. Any nurse in any role at Dayton Children's is eligible for a DAISY Award.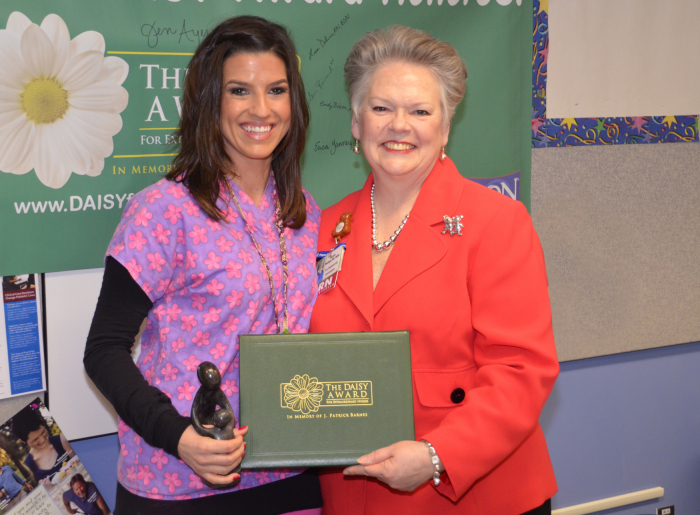 Musselman of Xenia is a float nurse and has been working at Dayton Children's for seven years. Her nomination is the first nomination to ever be made by a patient.
"She's awesome," said her nominator. "She does her very best to make sure that I'm okay as a patient and that I'm feeling better. If I don't feel good she does whatever she can to make sure that she can do something to make me feel better. If it's calling my doctor to see if he can prescribe something different or just trying to make me smile she does exactly that. She is really helpful. I think she is the best nurse ever!"
Learning her nomination was from a patient was a special part of receiving this award for Musselman.
"My first reaction was that of heartfelt appreciation. When finding out that the letter of recommendation was from a child diagnosed with cancer, tears instantly began to build up in my eyes. As a nurse, you quickly realize how precious and meaningful life is. These children and families are the very reason I chose the nursing profession."
Musselman is a member of Apex Community Church and enjoys being actively involved there. She also enjoys jogging, studying the bible, reading, and enjoying a cup of Starbucks coffee.
Nominations for the DAISY Award can be made by anyone and are taken year round. The award is chosen by The Systems Council at Dayton Children's and is presented quarterly.
The DAISY award may be given to any Dayton Children's nurse, in good standing, who exemplifies the following:
Works collaboratively with others
Serves as a role model for the nursing profession
Communicates clearly and effectively with all coworkers and patients/families
Functions as an integral member of a team
Creates an encouraging environment for others to learn
Generates enthusiasm and energy towards meeting the challenges of nursing
Works with others to achieve common goals and effect positive change
Develops key relationships with others—including patients and families
Demonstrates excellent interpersonal skills with peers and co-workers
Models empathy and demonstrates a caring attitude in all situations
Demonstrates a commitment to the goals and mission of Dayton Children's
Strives to go above expectations in their role within Dayton Children's
Commitment to the highest standards of nursing
About The DAISY Foundation
DAISY is an acronym for Diseases Attacking the Immune System. The DAISY Foundation was formed in November, 1999, by the family of J. Patrick Barnes who died at age 33 of complications of Idiopathic Thrombocytopenic Purpura (ITP).The Foundation works to honor nurses, fund nursing research and honor nursing faculty. For more information please visit http://daisyfoundation.org/
For more information, contact: 
Grace Rodney 
Marketing Communications Specialist 
Phone: 937-641-3666 
marketing@childrensdayton.org