6/13/18news article
Dayton Children's names activity room in honor of Walmart, Sam's Club support
celebrating $3.4 million in donations over 31 years as a Children's Miracle Network partner
Dayton Children's Hospital celebrates the long-term support of Walmart and Sam's Club with the official dedication of the eighth floor activity room in their name.  Over the past 30 years, Walmart, the Walmart Foundation, and Walmart and Sam's Club associates, customers and members have contributed more than $3.4 million to Dayton Children's, as a partner in the Children's Miracle Network. 
Walmart and Sam's Club's fundraising for Children's Miracle Network Hospitals have been so pivotal that the CMN Board of Trustees attended the dedication immediately following their national board meeting held in Dayton this year.  Leadership from several children's hospitals and major corporations across the country, including CBS Television and Speedway, helped fellow board member and Walmart vice president, Karisa Sprague, cut the ribbon dedicating the activity room.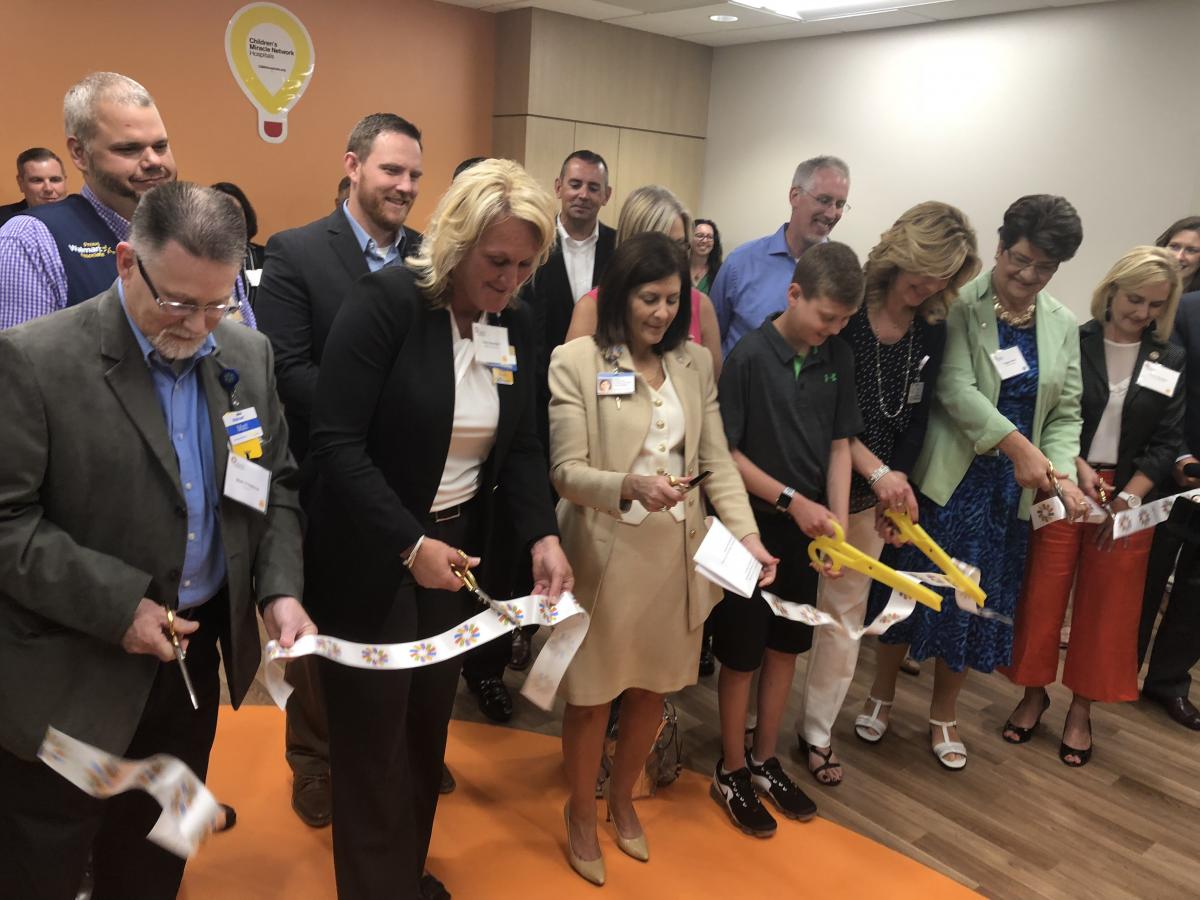 More than just being fun, play helps kids process their world and feel "normal" even as they undergo treatment.  It also helps them rebuild strength and stability, and distracts them from any discomfort associated with their treatment. This play room serves as a safe and fun distraction for patients on the eighth floor who are handling respiratory or gastrointestinal troubles.
"We are so thankful to Walmart and Sam's Club for their continued commitment to improving the quality of life for children at Dayton Children's," says Deborah Feldman, president and CEO.  "We couldn't be happier that this space will always bear their name and be a reminder of their generosity."
"Walmart and Sam's Club share a basic belief - that every child deserves the chance to live better," said Tracy Saunders, Walmart market manager for the Dayton area. "No one showcases that more than our associates, who spend countless hours and energy raising money to make sure kids in our community have the very best care possible. And they couldn't do it without the generosity of the millions of customers who shop in their stores and clubs every week."
Store associates raise the money during an annual campaign by asking for donations at the register. Since every dollar stays in the community in which it was raised, associates build strong relationships in their community and with their CMN Hospital.  Through those connections, they also sponsor creative fundraisers such as contests, auctions, potlucks and other family events. 
The "Walmart Associate" won the prestigious CMN Hospitals Founders Award. The award is historically given to one individual making a profound impact on children's hospitals; however, this time, it represented each of the 1.4 million Walmart and Sam's Club associates across North America. 
Since 1983, the Children's Miracle Network Hospitals organization has raised more than $5 billion, most of it a dollar at a time at stores like Walmart and Sam's Club, for 170 children's hospitals across North America.