6/28/18news article
Dayton Children's hosts gender diversity support group
Dayton Children's Hospital now has a new resource for children and teens questioning or exploring their gender identity. Youth between the ages of 10 and 18 years old years old who are gender questioning, transgender and gender non-conforming are welcome to attend free drop-in support groups.
Fourth Thursday of every month (except November)
7:00 pm — 8:00 pm
Main campus, first floor Private Dining Rooms A & B
Call 937-641-3855 for questions or more information
Community professionals will lead the groups to guide discussions around various topics, answer questions and provide a safe environment for understanding. These sessions are not meant to diagnosis or offer therapy recommendations, but instead serve as a place of community and acceptance. Parents and guardians of these youth are welcome to attend their own free, separate session during the same time.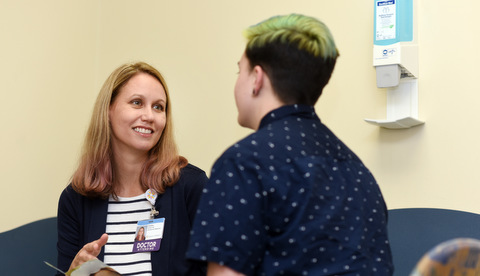 The group was started by Heather Stewart, MD, medical director of Dayton Children's adolescent young adult medicine department. She encourages a model of positive youth development to engage patients where they are in health promotion, prevention and treatment.
"The teenage years can be difficult and it helps to have a safe space for those teens or young adults who are questioning their sexuality or gender," says Dr. Stewart. "We know that sex and gender are not the same thing but it can be a hard concept to understand.  We want to be here for them as they go through growth and change physically, mentally, socially and emotionally."