6/17/16news article
Dayton child will visit Capitol Hill to urge lawmakers to strengthen the health care network
eight-year old will join children from around the nation as part of Speak Now For Kids Family Advocacy Day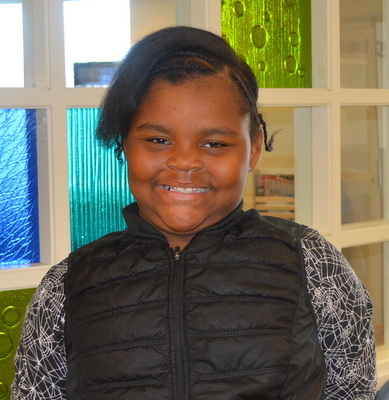 A Dayton family will travel to Washington DC to advocate for a strong health care network to meet their unique needs. On June 21 and 22, 2016, patients, families and pediatric physicians from children's hospitals across the country will meet in the nation's capital to advocate on behalf of children's health care during the 12th annual Speak Now For Kids Family Advocacy Day.
Eight-year-old Victoria Lackey was diagnosed with severe asthma when she was 3 years old. Accompanied by her mother, Astasha Ramsey, and representatives from Dayton Children's Hospital, Victoria will speak to legislators about her unique struggle and the difficulties of many other children in the Miami Valley area.
Victoria will enter the third grade at Morrison Elementary in Northridge this fall. When she isn't hanging out with friends or playing basketball, you might find her reading a Junie B. Jones book in her bedroom. She loves school, especially math, art and gym, and is on the honor roll. However, attending school is not always easy for Victoria because of her asthma symptoms.
"Sometimes breathing is so hard," says Victoria. "I feel like a fish without water when I have an asthma flare-up." Victoria's uncontrolled asthma made her a perfect candidate for a new, comprehensive asthma care program at Dayton Children's. The implementation of this program is essential to making a difference to children's health in the region.
"We know that environmental triggers play a significant role in asthma flare-ups," says Robert Cohn, MD, MBA, medical director of pulmonary medicine at Dayton Children's. "Addressing these triggers, along with consistently taking the proper medications, is more effective than prescribing treatments alone."
Through this program and the resources available through the newly formed Dayton Asthma Alliance, Victoria and her mother received a home visit by both a community health worker from the Wright State University Center for Healthy Communities, housed in the pulmonary clinic at Dayton Children's, and an air quality specialist from Regional Air Pollution Control Agency (RAPCA) at Public Health Dayton and Montgomery County. This cross-sector team evaluated the home for environmental triggers that could impact Victoria's asthma. The community health worker also identified a few resources that could help Victoria and her mother better understand her asthma, including classes at Sinclair Community College.
"Since the visits, Victoria has not had any asthma flare-ups, and I've learned a lot from the asthma program," says Astasha. "I've learned to avoid air fresheners and bleach, and use green cleaning kits instead. I am even trying to stop smoking. I want to have a safe environment to help Victoria breathe better."
Despite hardships, Victoria inspires those around her with her upbeat attitude and never-give-up spirit. She hopes her voice will make an impact on lawmakers in Washington DC, raising awareness about the impact of asthma on children and the importance of a strong network for children's health care.
For more information on Family Advocacy Day, visit www.childrenshospitals.org; read family stories on the Speak Now for Kids blog, www.speaknowforkids.org/blog; or follow the families on Facebook at http://www.facebook.com/speaknowforkids or Twitter, @speaknowforkids
For more information, contact:
Stacy Porter
Public relations manager
Phone: 937-641-3666
newsroom@childrensdayton.org