6/14/13news article
Dayton area child travels to Capitol Hill to push for better health care access and care coordination
family speaks up on behalf of children with complex medical conditions
Follow this story on social media with #FAD13 and #DCFAD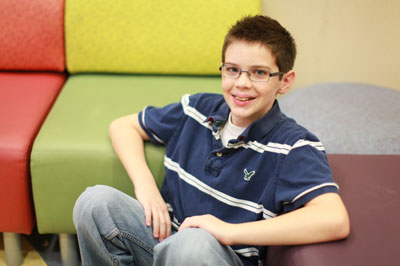 One local family is taking their story to Capitol Hill to deliver an important message to their members of Congress: at a time when access to care is improving for millions of adults, don't let care for children falter. 
As scientific advances have made it more feasible for children to survive serious conditions, a growing number of children and their families face the realities of managing very complex medical conditions. Colin Beach, 13, has bilateral hereditary retinoblastoma, a rare condition in which malignant tumors develop in the eye.  He and his family will meet with members of Congress on June 19-21 as part of the Children's Hospital Association's Family Advocacy Day to share their personal experiences in coordinating multiple doctors, therapists and hospitals.
The family's visit with their members of Congress will coincide with the release of a special report that looks at a growing sub-population among children: the medically complex. Nationally, of the 32 million children who rely on Medicaid, an estimated 6 percent of those children have complex medical conditions and account for 45 percent of all Medicaid spending on children.[1]     
""As much as we hope every child is healthy, it is the tough reality that kids get sick or injured and need specialized care.  Kids need and deserve experts, technology, medicine and care designed specifically to meet their needs," says Vicki Giambrone, vice president for strategic partnerships at Dayton Children's, "The research is clear, having access to pediatric experts improves outcomes for kids and we believe every child deserves access to that kind of care."
The Beach family knows well the critical impact that access to specialized pediatric care has had for Colin, and the importance of ensuring access for all families by protecting and modernizing Medicaid. At five months old, Colin developed what his parents thought was a lazy eye. While he was at his six month check-up, the doctor examined his eye and discovered that he had bilateral hereditary retinoblastoma. In Colin's case, there were 2 tumors in his right eye and 9 in his left causing his left eye to go blind.
Colin started off getting 4 and 6 cycles of chemotherapy then had laser therapy done after each chemo session. Fortunately, this stopped all of the tumors and eventually allowed all of them to completely disappear.
He might have a lifetime of being blind in one eye, but that and over 30 surgeries have not stopped him. He has learned to accept it as part of his life and is making the absolute best of it.
"We are incredibly grateful that Colin was able to get such great pediatric care from the specialty doctors and nurses here at Dayton Children's," said Maureen Beach, "In Colin's case, it was crucial for him to receive  special care immediately and that is exactly what they were able to do here. We're going to Washington D.C. and sharing our story with the legislators to ensure that all kids across the country will be taken care of the way Colin was."
President and CEO of the Children's Hospital Association, Mark Wietecha, agrees that advances in care are invaluable, and notes children are surviving conditions that would not have been survivable 20 years ago. The lack of systemic care coordination, however, creates missed opportunities for optimal care.
"Whose job is it to make sure the primary care physician, the nephrologist, neurologist, speech pathologist and the orthopedist are all talking to each other and making sure the child patient is getting the best possible care? In too many cases, the answer is no one. Systemic care coordination is largely absent for these children who often cross state lines to receive care from regional providers," says Wietecha.
This summer, the Association will advance a data-driven framework for national pediatric networks that would achieve better care coordination for medically complex children. "We want all of our patients to live a great life. For that reason, we stand together with our families to insure that legislation allows our kids to receive the resources and care they need," says Giambrone.
About the Children's Hospital Association
The Children's Hospital Association advances child health through innovation in the quality, cost and delivery of care. Representing more than 220 children's hospitals, the Association is the voice of children's hospitals nationally. The Association advances public policy enabling hospitals to better serve children, and is the premier resource for pediatric data and analytics driving improved clinical and operational performance of member hospitals.
For more information on Family Advocacy Day, visit www.childrenshospitals.net,or follow the families on Facebook at http://www.facebook.com/speaknowforkids or Twitter, @speaknowforkids, #FAD13.
---
[1] Data Source: Children's Hospital Association (Spring 2013). "Make Medicaid Work for Children"
For more information, contact: 
Jessica Saunders 
Community Relations Manager 
Phone: 937-641-3666 
saundersj@childrensdayton.org