2/23/15news article
data center ribbon-cutting celebrates first milestone of Dayton Children's campus renewal project
Today, Dayton Children's unveiled a new data center as the first step in a $141 million campus renewal project. Danis Construction began work on the center in spring 2014. The new data center/generator building will house the needed technology to support a new patient care tower and Dayton Children's total operations well into the future.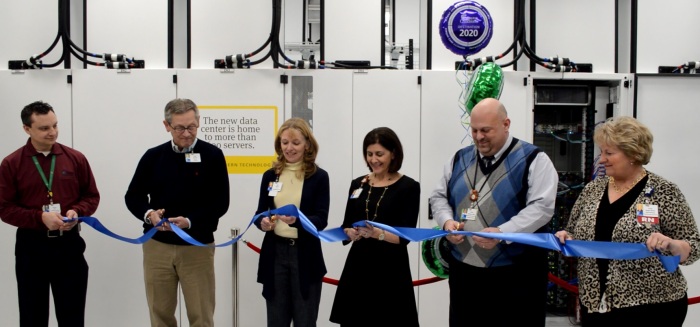 This is the first milestone in the physical manifestation of the Destination 2020 strategic plan to ensure Dayton Children's remains an independent, freestanding children's hospital to deliver world-class care to the children of the Dayton region. Future health care needs depend on technology for patient safety, better health outcomes and a great patient experience. Modern technology supports not only clinical needs and patient experience, but business initiatives, as well. This new data center was a crucial first step to building an eight-story patient care tower, expected to be complete in 2017.
The new data center will provide faster connectivity in the new patient tower, including faster internet speed and a new back-up internet connection. It will support video needs and new technology such as desktop cameras for video conferencing, allowing employees to connect face-to-face for improved communication. It will also provide upgraded phone systems and more computer server storage. In addition, the long-term goal is to offer patient education – and entertainment – through technology to enhance the patient experience.
The Dayton Children's information services department will spend the next 12 weeks moving nearly 600 servers, applications and programs from the old data center to the new, simultaneously running both data centers.
Fun facts about the data center:
The building is 13,200-square-feet, that's about a quarter of a football field.
It took 150 workers from Danis Construction to build the new data center.
8,000 feet of cable was laid underground – that's 1.5 miles.
600 servers will live in the new data center.
All cable inside the data center is overhead so it doesn't interfere with airflow under the floor.
The data center has two new generators (and room for a third), which can produce enough power for 175 houses.
The building has 120,000 pounds of rebar, the same weight as a Brachiosaurus!
For more information, contact:
Stacy Porter
Communications specialist
Phone: 937-641-3666
porters@childrensdayton.org