1/23/13news article
CARE House receives $200,000 from local law enforcement agencies
The Montgomery County Prosecutor's Office, Montgomery County Sheriff's Office and The Dayton Police Department presented a check for $200,000 towards the CARE House building campaign on January 23, 2013. This money will help reach the $2.1 million goal to build a new CARE House, the children's advocacy center for victims of child abuse in Montgomery County.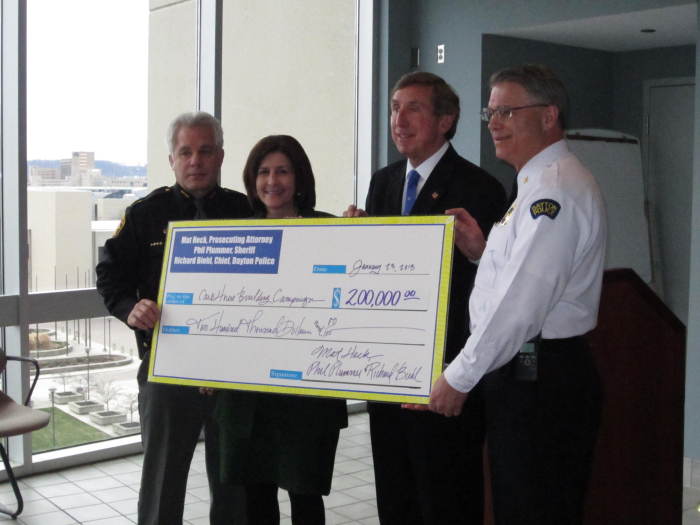 The check was presented by Mat Heck, Montgomery County Prosecuting Attorney, Phil Plummer, Montgomery County Sheriff and Richard Biehl, Chief, Dayton Police.
"I am very pleased to make this donation of funds from forfeited assets, seized from drug dealers,  to support constructing a facility to house our county's children's advocacy center, CARE House, which furthers our mission to protect and assist victims of child abuse in our community," says Mat Heck, Jr., Montgomery County Prosecuting Attorney and campaign chair.  "We also welcome the continued support of the community to the success of this project."
CARE House involves a partnership between Dayton Children's, Montgomery County Prosecutor's Office, Dayton Police Department, Montgomery County Sheriff's office and Montgomery County Job and Family Services. In addition to these founding partners, all law enforcement agencies in Montgomery County utilize CARE House for their child abuse investigations.
The current CARE House is located in a more than 100-year-old Victorian-period home across the street from Dayton Children's.  The home no longer efficiently accommodates the growing number of children and families requiring advocacy services.  The new center, to be located on Dayton Children's campus, will double its current size. Groundbreaking for the new CARE House will take place on March 27, 2013.
The new facility is expected to include:
A child-friendly reception area
Two sound-proof, child-friendly interview and observation rooms
State-of-the-art recording equipment
A case review room
Expanded space for mental health treatment
A multipurpose room for group therapy, support groups and prevention training
And much more! Download the campaign brochure  on the Dayton Children's website to find out what else the new facility will include!
About CARE House
Established in 1999, CARE House, Montgomery County's children's advocacy center, serves child abuse victims through a centralized, child-focused approach that brings together law enforcement, child protection services, prosecution, mental health experts, medical professionals and victim advocates to help reduce the trauma victims experience after abuse has been reported and serves more than 600 children a year, often the worst of the nearly 5,000 cases of abuse reported in Montgomery County each year. 
To learn more about CARE House please visit www.thecarehouse.org or 'like' CARE House on Facebook!
For more information, contact: 
Grace Rodney 
Marketing Communications Specialist 
Phone: 937-641-3666 
marketing@childrensdayton.org