2/4/10news article
Bonnie L. Sommerville selected as Dayton Children's 2009 Elsie T. Mead Lifetime Achievement Award winner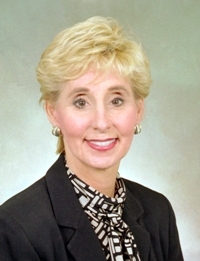 The Children's Medical Center of Dayton is pleased to announce that Bonnie L. Sommerville MS, FACHE has been named the 2009 Elsie T. Mead Lifetime Achievement Award winner. 
The Elsie T. Mead Lifetime Achievement Award recognizes a current or former Dayton Children's employee who has made an outstanding contribution to Dayton Children's and the community. Former employees are eligible for up to five years after their departure from Dayton Children's. Award winners must have been employed by Dayton Children's or one of its subsidiaries, made a major lifelong contribution to Dayton Children's mission, be active in the community, contribute a significant innovative idea to Dayton Children's and be recognized as a positive mentor and role model. 
Sommerville served a variety of roles in her 28-year career at Dayton Children's. She was actively involved in numerous committees and projects related to patient care, facility growth and risk management strategies. She was also actively involved in community projects and served for years on Womanline's Board of Trustees. 
"Bonnie made tremendous contributions to the growth and development of Dayton Children's," says David Kinsaul, president and CEO at Dayton Children's. "Her dedication to every committee, position and unit she was a part of was appreciated by all who interacted with her." 
During her time at Dayton Children's, she worked as an educator in the nursing division and assumed progressively greater responsibility in a variety of positions. These include vice president for operations and chief nursing officer and later vice president for corporate support. 
"Bonnie is a dedicated and talented individual that displays a high degree of honesty, loyalty and integrity," says Kinsaul. 
"Her experience in a variety of positions, from clinical to administrative, has allowed Bonnie to become one of the most knowledgeable individuals about Dayton Children's and what it means to carry out our vision and mission." 
She was later selected for the Wright State University School of Nursing Hall of Fame in recognition of her years as a Wright State faculty member. In 1988, Sommerville also received the prestigious Dayton YWCA Career Woman of the Year award during her tenure at Dayton Children's. 
Elsie T. Mead believed that children needed their own hospital. She was a community leader and the wife of the chairman of the Mead Corporation and was accustomed to getting things accomplished to improve life in the greater Dayton area. After witnessing a child admitted to an adult hospital in Dayton, she knew there had to be a better way to deal with ill and injured children. She had a vision of improving care for children and engaged others in her vision. The Elsie T. Mead Lifetime Achievement Award honors an employee who is also dedicated to caring for children and embodies that deep sense of commitment, those same values and that spirit of doing whatever it takes for children and families.
For more information, contact: 
Marketing Communications Department 
Phone: 937-641-3666 
marketing@childrensdayton.org