4/22/15blog post
a big sister's plans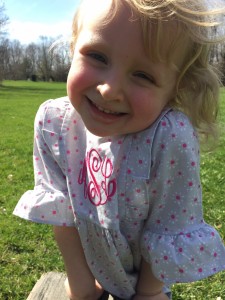 "I'm going to take care of the baby…give her a bottle…calm her down…and make sure that my toys don't get in her mouth."
From the mouth of my first baby, these are the plans Mary has for her little sister. She's got it all figured out!
It's exciting to hear a 4-year-old plan for a younger sibling. Like my husband and I, Mary has hopes and dreams for this new little baby. And while she wants to be a little mommy, we've also started some of the work in explaining how to keep the new baby safe. We know it's our responsibility to create a safe environment for this new little one – but there are a few things we want to share with Mary so she can help .
Toys and choking hazards – Mary has a lot of little toys now that are not appropriate for a baby. We've started to move toys with small pieces to Mary's room instead of in the spaces where the baby will most likely be spending her time.
Safe sleep – We've told Mary that she can't put anything in the baby's crib when the baby is sleeping there. I can see Mary trying to add another blanket or stuffed animal to the crib so we're starting these reminders now.
Suffocation – Similar to safe sleep, we've told Mary that she can't put anything over the baby's mouth – no blankets or toys.
Lots more work to do to make sure our home is ready for a newborn again! I'm glad we have a big sister to help out!