4/21/16news article
always go with your gut
new gastroenterologist can get to the bottom of the toughest tummy troubles
Parents have a laundry list of causes they can run down when their child's tummy hurts. Are you tired? Are you hungry? Have you used the restroom lately? Are you nervous? Did you fall? Did you eat something you shouldn't have? Sometimes, though, no matter how many questions you ask, it's a bigger problem that what happens in the kitchen or the bathroom.
Sandra Wright, MD, joins Dayton Children's gastroenterology department to help kids who may not have an easy answer to explain what is tying their gut in knots, especially for kids who suffer from severe chronic constipation or fecal incontinence.
"My colleagues often call me the human roto-rooter," Dr. Wright jokes. "It's because I'm so dedicated to finding the best solution to what is upsetting a child's system and causing their condition."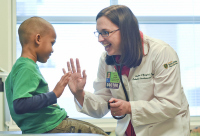 Dr. Wright comes from Cincinnati Children's Hospital Medical Center, where she served as a specialist and completed a fellowship in gastroenterology, as well as earned a certificate in clinical and translational research. She served her internship and residency at the University of Alabama at Birmingham, earned her medical degree at the Medical College of Georgia in Augusta and got her undergraduate degree at Rhodes College in Memphis, Tennessee.
Dr. Wright is board certified in pediatrics and pediatric gastroenterology. She is a member of the American Gastroenterological Association and the North American Society for Pediatric Gastroenterology, Hepatology and Nutrition. She is especially interested in severe chronic constipation, fecal incontinence, swallowing difficulties, chronic vomiting and bloating.
She joins the board-certified pediatric gastroenterologists and clinical care team at Dayton Children's who provide expert multidisciplinary care for infants, children and adolescents with diseases of the gastrointestinal tract. The physicians' extensive training and experience allows them to diagnose and treat all gastrointestinal conditions, from common concerns such as constipation to complex diseases, such as Crohn's or celiac disease. They develop personalized care plans to address each child's unique needs, collaborating as needed with other pediatric specialists at Dayton Children's. The team also participates in research and quality improvement projects in order to better understand and advance the care of diseases of the gastrointestinal tract.
For more information, contact:
Stacy Porter
Public relations manager
Phone: 937-641-3666
newsroom@childrensdayton.org