4/10/17news article
Aflac and Dayton Children's Hospital Honor Heroes in the Fight Against Childhood Cancer with Duckprints Awards
Aflac, the leading provider of voluntary insurance sales at the worksite in the U.S. and a committed corporate ally in the fight against childhood cancer, today honored a group of heroes with Duckprints Awards for leaving their footprints in the battle against childhood cancer.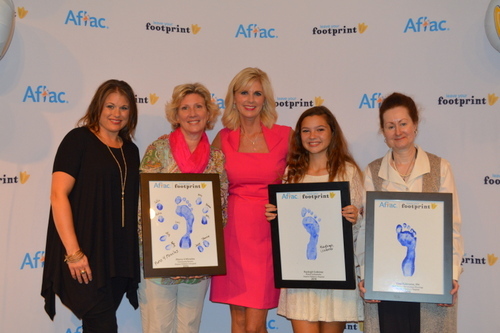 "Aflac's longstanding fight on behalf of children with cancer and their families has been a source of great pride, motivation and inspiration for the broad Aflac family for over 20 years," Aflac Foundation President Kathelen Amos said. "We are pleased to welcome Dayton Children's Hospital to our ongoing Duckprints celebrations and to honor each of these heroes for their unique contributions in this long-term commitment to eradicate childhood cancer once and for all."
The 2016 Duckprints Awardees are:
Gina Robinette — A nurse with Dayton Children's Hospital who provides invaluable patient support in the hematology and oncology department
Kayleigh Crabtree — A 14-year-old philanthropist who has raised money and awareness for childhood cancer before ever knowing she would face the same cancer battle as the people she has helped over the years
Moms 4 Miracles — A group of women who support Dayton Children's Hospital and its pediatric cancer patients, who are the real heroes according to Moms 4 Miracles
Less than 5 percent of federal funding for cancer research goes to pediatric cancer, according to the Children's Cancer Fund. That's why Aflac has contributed more than $108 million over the last 20 years to bridge the gap in funding and help find a cure. In fact, more than 16,000 of Aflac's agents contribute over $500,000 from their commission checks each month to support childhood cancer research and treatment.
As part of the grassroots Duckprints campaign that began in 2013, Aflac is calling on people across America to become active in the cause. Aflac is donating $2 to the fight against children's cancer for each Duckprints-related social media activity on Facebook, Twitter and/or Instagram, up to $1.5 million. Related social actions include:
Twitter - $2 for any tweet using the hashtag #Duckprints or for retweets of Duckprints-related tweets.
Facebook - $2 for any share of specific posts related to Duckprints or using #Duckprints.
YouTube - $2 per view of the Duckprints videos on YouTube.
Instagram - $2 for every post using the hashtag #Duckprints.
Aflac also created a website (aflacduckprints.com) that enables users to nominate unsung heroes in their community who have made a difference in the lives of children and families facing cancer.People can follow the Aflac Duck on his journey to hospitals around the country honoring those who have made a difference in the fight against childhood cancer.In addition, merchandise such as plush Aflac Ducks and Duckprints-related T-shirts, slippers and other items are available for purchase at aflacduckprints.com, with all of the net proceeds going toward the treatment and research of childhood cancer.
about Duckprints Award Recipient Gina Robinette
No matter how much has changed in Gina Robinette's 30 years at Dayton Children's Hospital, one thing remains constant – the human connection. Technology has advanced and new treatments continue to emerge, but according to Robinette, nothing beats humans taking care of humans.
In fact, that's why Robinette transitioned to working in hematology and oncology. Battling cancer is a long fight and patients become a part of a family at Dayton Children's. Despite the arduous journey, tackling it together, one step at a time, lightens some of the load. Robinette enjoys developing that relationship with a patient and their family and doing what she can to help.
She knows that there will be bad days, but she also knows that she can always help families cope with whatever comes their way. She places an emphasis on improving the quality of life for both a patient and their family. In doing so, Gina is able to show them that shining light at the end of the tunnel.
The moments she will never forget actually come long after the children she cares for have beaten cancer, grown up and moved on with their lives. These past patients, who Robinette saw at their worst, come back with their own children to visit her. She gets to see the future that she helped create by caring for each child as if they were her own. So no matter what a child must endure today, Robinette knows that a brighter future is possible, and she will never stop reminding each child, and each family, that a new day is ahead.
about Aflac Duckprints Award Recipient Kayleigh Crabtree
Lemons and pineapple: Two tropical fruits that will always remind Kayleigh Crabtree that the fight against cancer is never over. While she is now cancer free, her own battle with disease made her more passionate about raising money and awareness than ever.
The word cancer first entered Kayleigh's vocabulary when she was just six years old and learned about Alex's Lemonade Stand, an organization which raises money for childhood cancer research. She started hosting her own lemonade stands and in two seasons, raised more than $500 for the organization.
Never did Kayleigh think that after those two successful summers she would be on the other side of the stand. At age eight, Kayleigh was diagnosed with acute lymphoblastic leukemia (ALL). The most common type of childhood leukemia, it affects the body's white blood cells. There is an 85 percent national survival rate for ALL and a 90 percent survival rate at Dayton Children's.
Despite the optimistic prognosis, the battle would be long and hard for the Beavercreek preteen – five phases of chemotherapy and losing her hair twice. Through it all she had a champion by her side – a man she liked to call Dr. Pineapple. His real name is Dr. Mukund Dole, spelled like the name on a can of pineapple but pronounced with an "a" on the end. He was Kayleigh's oncologist, and together he and the team at Dayton Children's helped Kayleigh and her family make it through two years of treatment with a successful outcome.
Today at age 14, Kayleigh is just as passionate about raising money for cancer causes, including Dayton Children's, Children's Miracle Network Hospitals, CureSearch, The Leukemia & Lymphoma Society and A Special Wish. Kayleigh's continued fundraisers include jewelry sales, garage sales, hand-painted ornament sales and even selling a book she wrote and published as part of her special wish.
And at the end of the day, Kayleigh knows that the roots of awareness and support that she plants will bear fruit for generations of cancer care to come.
about Aflac Duckprints Award Recipient Moms 4 Miracles
Blessings drive a group of Dayton area moms to make the fight against cancer a little easier for kids at Dayton Children's. They call themselves Moms 4 Miracles, and they are all blessed to have healthy children. But they say they are also blessed to have a children's hospital close to home, a luxury not all families have.
So when founder Sallie Taylor heard a sermon at her church in 2011 about putting her life into play and using her God-given talents to help others, she knew it was time to count those blessings and share some with others. She signed up to pray for people with cancer and asked God to put her life into play. The next week she was called to raise money for The Leukemia & Lymphoma Society.
She, in turn, called on her friends – an incredible group of other mothers – to help her raise money. They went above and beyond, raising $42,000 in honor of children with cancer with the biggest fundraiser being a golf outing. That amount earned Taylor the title of "Woman of the Year" and cemented her future as a champion for children.
The next year, Taylor created the Moms 4 Miracles Fund through the Dayton Foundation. Every year, this group of dedicated moms hosts their annual golf outing. They have also added a Derby Day event and local businesses have all joined in with fundraisers. Battling cancer is a long process with weeks spent in the hospital at a time, so these Moms also have purchased gaming systems and iPads to help entertain kids. During the last year, they raised $25,000 to name an outpatient transfusion room in the new pediatric cancer treatment floor of the patient tower currently under construction at Dayton Children's main campus.
All this work is for their "heroes" – that's what they call the children they support who are battling cancer. With the proceeds, the Moms help pay off medical bills, make wishes come true, fund research or support hospital initiatives.
All this fundraising takes a lot of time, hard work and perseverance, but Moms 4 Miracles say it's actually become another blessing. They get to see the indomitable spirit of youth conquer illness. They get to be a part of healing and hope. And in the end, they get to help make miracles.
About Aflac
When a policyholder gets sick or hurt, Aflac pays cash benefits fast. For six decades, Aflac insurance policies have given policyholders the opportunity to focus on recovery, not financial stress. In the United States, Aflac is the leading provider of voluntary insurance at the worksite. Through its trailblazing One Day PaySMinitiative, Aflac U.S. can receive, process, approve and disburse payment for eligible claims in one business day. In Japan, Aflac is the leading provider of medical and cancer insurance and insures 1 in 4 households. Aflac individual and group insurance products help provide protection to more than 50 million people worldwide. For 10 consecutive years, Aflac has been recognized by Ethisphere as one of the World's Most Ethical Companies. In 2016, Fortune magazine recognized Aflac as one of the 100 Best Companies to Work for in America for the 18th consecutive year and included Aflac on its list of Most Admired Companies for the 15th time, ranking the company No. 1 in innovation for the insurance, life and health category for the second consecutive year. In 2015, Aflac's contact centers were recognized by J.D. Power by providing "An Outstanding Customer Service Experience" for the Live Phone Channel. Aflac Incorporated is a Fortune 500 company listed on the New York Stock Exchange under the symbol AFL. To find out more about Aflac and One Day PaySM, visit aflac.com or espanol.aflac.com.
Aflac herein means American Family Life Assurance Company of Columbus and American Family Life Assurance Company of New York.
For more information, contact:
Stacy Porter
Public relations manager
Phone: 937-641-3666
newsroom@childrensdayton.org