9/22/11blog post
843 Days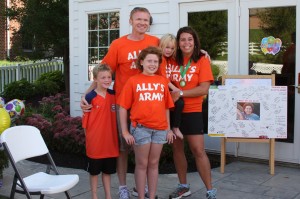 843 days. 843 days ago we heard the words no parent should ever have to hear: your daughter has leukemia. We learned only about 2000 kids in the whole country are diagnosed with this every year. The odds could be likened to winning the lottery. However we had just won the "reverse lottery" or so we called it. Our seven year old daughter Ally had just been diagnosed with ALL leukemia – high risk. Our lives became encompassed with medical protocols, research studies, chemotherapy drugs and binders listing side effects. Our doctors, nurses, and fellow patients became our family and Dayton Children's became our home away from home. We spent countless days and nights of the first year in our home away from home. We were there well over 100 days and I believe around 60 nights, including birthdays, anniversaries, holidays and even Christmas. We came to know everyone there that surrounded us including aides, parking attendants, cooks and custodians.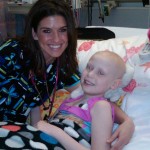 Ally's first year was incredibly hard. She suffered from all of the various side effects of her chemotherapy regimen. She got fevers. She got mouth sores so bad she would go on a morphine pump for a week at a time. She couldn't even talk to us because it hurt so badly. She got pancreatitis. She was in a wheelchair at times because her joints hurt so bad she couldn't walk. We dealt with vomiting, constipation, and lack of sleep for most of the year. We were forced to be inside our house, not allowed to go to restaurants, shops, parties, etc. due to her immune-compromised position. We relied on friends and family to help us with our other two kids… our son Evan, now 7 and our baby girl Carly, who is now 4.
The fact of the matter is that we made it through. Within a week of her diagnosis, we had formed an Army. Ally's Army. This Army carried us through our darkest days…running our errands, making food, and taking care of our kids. About 4 months after her diagnosis, we had 400 member s of her army walking behind her at the Leukemia and Lymphoma Light the Night Walk. We had monumental success raising money in her name. Most importantly, we had the Army there with us…saying prayers for our girl every time we hit a bump in the road. I faithfully kept a blog for my daughter and for the Army. In those 843 days, I posted over 400 blog entries. I posted pretty much every day of the entire first year. I wanted to raise awareness as to what childhood cancer was all about. I wanted people to know the good but also the bad. I wanted to lay it all out there in hopes that someday it would help another family going through a similar ordeal. There are so many emotions that a mother feels when her child is battling a life-threatening disease.
We were in the trenches everyday fighting for our girl and encouraging our girl to fight through it all herself.
September 17, 2011 was the 843rd day. It was the last day that Ally, now almost 10, would have chemotherapy in her body. Coincidentally, it was the same day as the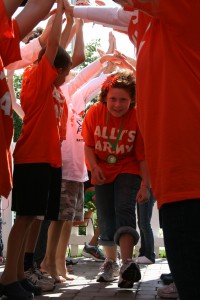 first ever Curesearch Walk for Childhood Cancer here in Dayton in honor of September being Childhood Cancer Awareness Month. All of her friends with cancer, all of their nurses, and all of our Army would come together on this day to walk to try to put an end to this disease for all. It couldn't have been a more beautiful September day. It was perfectly sunny, not too hot and not too cold. As I walked up to the registration table, I couldn't help but feel a giant lump in my throat. The lump held all my fears, my frustrations, my sadness, but also my joy and my pride that we had made it through. I looked out over the crowd and saw the kids that had been in the rooms next door to us while we stayed in the hospital. I saw the sea of orange Ally's Army shirts. I could barely speak to anyone. My tears were coming off and on. I watched my daughter do the walk (2.4 miles) which is still quite a bit for her. And she is now one of the "healthy" ones. She had her scooter to help. But I couldn't help but notice other kids stopping to vomit, sitting on the side, or even missing the walk altogether because of being in the ER with a fever. I will never forget. The walk was an incredible success and more importantly raised awareness that cancer does indeed affect children.
But that day, the best was yet to come. My husband and I had planned a surprise party for Ally. We invited literally almost everyone we know to come celebrate the day that Ally would take her last chemo. She had absolutely no idea! We had the party in our backyard. One of the most amazing sights I have seen throughout my days fighting this disease was when Ally walked up to the yard.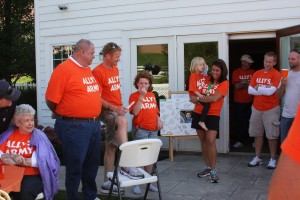 There was about 100 people from her Army lining the walkway and forming a tunnel with their hands in the air. The tunnel ran all the way into the backyard. She ran through it, wearing her medal from the walk, while everyone cheered for her. These people had been her cheerleaders all along. Cheering from behind their computers while reading her story…praying on her darkest days, but now exclaiming the joy that the treatment would be over. It gives me chills just to think about it. She played for the next 10 hours in the backyard on the giant inflatable toys we had rented for her . There were bunches of her friends there…laughing, singing, sliding, jumping, eating, and enjoying the perfectly sunny September day that we had been waiting for for so long. She took her last chemo dose right in the middle of the party.
843 days. The last day was truly one of the best days of my life. And the chapter is closed.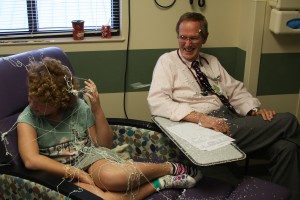 Just a few days later, we headed back to Dayton Children's for Ally to get an infusion of antibiotics into her port. This new chapter begins with her usual bloodwork and she will continue to be tested for many years to come. Over half of the survivors suffer long -term side effects from the chemotherapy and radiation treatments that saved their lives. We still have many more "hospital days" to come. This day was extra special for her though. At the end of 843 days of treatment, the nurses bombarded Ally with some silly string and blizzard spray as her doctor sat by her side. Dr. Broxson is her oncologist and the best doctor we could ever ask for. He is the man whom I feel I owe my entire life to for saving my child. They presented Ally with the Purple Heart Award for bravery and strength under extreme circumstances. I had tearfully watched as the nurses had done this to other children in the past. Today was her day. It was Ally's day. And as the nurses sang to her, I realized it was the most beautiful song I had ever heard (sung to the tune of Happy Birthday):
"No more chemo for you. No more chemo for you. No more chemo dear Ally. No more chemo for you"
You can read Ally's complete story at www.all4ally.blogspot.com.
By: Janel Barnett, Ally's mom