4/2/15blog post
5 tips for easy meal planning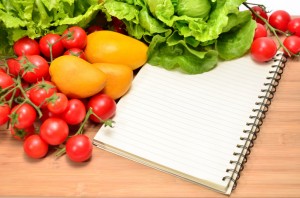 It takes energy and a commitment to live a healthy lifestyle. My expertise is just one piece of the puzzle – eating healthy. We are half way to success in our house when our home has been prepped for the week – read on for more!
What other helpful tips do you use in your kitchen to help you get ready for the week?
Did you create a menu for the week? For the 7 days, include a couple family favorite meals with maybe 1-2 new recipes. Identify 2 days – 1 for leftovers and 1 for dining out. It happens – be realistic! I like to create our menu on Sunday – involving the family. At the same time, we are looking at our calendars and the menu reflects the evening rat race. This is the time the kids can voice the dish and/or vegetable we will be eating!
Who does the grocery shopping in your house? Making the list is half the battle and stick to it! Think sections of the grocery and plan from there. Remember: shop the perimeter (fresher fare) and beware the aisles (more processed foods)! Ask yourself these questions:

Produce:

Do we have grab and go fruit? Do we have vegetables to snack on? Do we need more low fat dip?
Do we have lettuce greens?
Do we have at least 2-3 fresh vegetables for cooking? Do we have enough frozen vegetables?

Fresh meat:

What fresh meat do I need to purchase this week?
Is there any fresh meat that is on sale that I can cook half and freeze the rest?

Dairy:

Does the house have reduced fat cheese? Do we need more string cheese?
Do we need more low fat milk? Eggs? Greek yogurt? Low fat cottage cheese and/or yogurt tubes?

Aisles and freezer section:

Choose items with short ingredient lists. Less number of ingredients means less processed item.
Sway away from boxed, canned, and bagged foods with ingredient lists containing words: sugar, high fructose corn syrup, honey, cane syrup and molasses.
Focus on foods containing whole grains and fiber amounts > 3 grams per serving.
Choose boxed items with no more than 3 grams of fat per 100 calories.

Prepare your refrigerator and pantry for the week with grab and go's!

Have fruit and veggies accessible: take the apples out of the bag; take the grapes off the stems, wash and put into a container; put the baby carrots in a Tupperware container; wash the fresh lettuces (wash them after shopping and store in a plastic bag with a moist paper towel – will keep for days!)
Take the fruit cups out of the box to be easily accessible.
Snap single-serve yogurts and low fat cottage cheeses a part; open the yogurt tube box; unload the hummus cups from the box.

Identify time in the week to cook ahead!

Cook meat in large batches and freeze in 1-2 pound portions. (We freeze in 1# bags for soups; 2# bags for taco meat)
Double or triple a family favorite recipe and freeze the extras for future meals. (I do this often for meat loaf)
Make hamburger sliders and freeze (Portion using the measuring cup: ¼ cup and freeze sliders in a 8X8 pyrex dish with freezer paper between rows; kids love sliders!)
Crock pot soup and freeze half.
Prep fresh vegetables and store in containers or Ziploc bags with a 1-2 pieces of ice to keep fresh. Ready for steaming or eating raw.
If you have a smoker, smoke meat and freeze in 1-2 pound portions (this is my husband's favorite duty).

Cook with your children!

Include your children with the above points AND have fun cooking together!