07/29/20 event
Safety is my Superpower Kit Sale
Wednesday, July 29, 2020 - Friday, August 07, 2020 | 7:00 a.m. - 11:30 p.m.
What's your superpower? At Dayton Children's, safety is one of the most important powers we possess. We realize that during these uncertain times, keeping up with all that's needed to stay healthy can be challenging. So we want to share our power with you and your loved ones!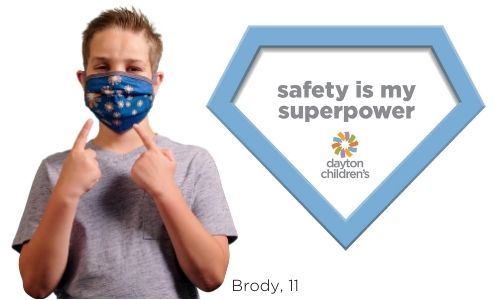 We are offering a one-of-a-kind superhero safety kit for $35! You can equip a child with safety superpowers, while supporting our COVID-19 Emergency Response Fund to help our super caregivers.
Your kit will come complete with:
Dayton Children's branded child-sized face mask
A cute superhero cape
Dayton Children's Supernova hand sanitizer
When you buy your safety kit, a portion of your purchase will support kids and caregivers through our COVID-19 Emergency Response Fund.
And when you order online, you can buy and donate a second kit to benefit a child at Dayton Children's so we can continue our mission of providing optimal care for every child within our reach!
Quantities are limited - place your order now!
---
With the rapidly changing coronavirus situation and uncertainty about what the future will bring, our pediatric medical specialists recommend that kids (age 2 and up) and adults continue to follow the state of Ohio's guidelines for wearing masks in public places.