Tristen Luken has never been one to blend in. Which is why, when she was choosing her new prosthetic leg this year, the thought of a boring black model never crossed her mind. Instead, she went with the most colorful design available—rainbow tie-dye.
The new prosthetic is Tristen's second permanent leg, replacing the one she received shortly after her right leg was surgically amputated below the knee in 2013. That amputation was a new chapter in a story that had begun 12 years earlier, when Tristen was born with a condition called macrodactyl, which affected her right foot. "My foot was enlarged, round and disfigured," Tristen says. "Plus, my toes were bent and webbed together."
Amputation was an option from the start, but Tristen's parents chose to wait until she was old enough to decide for herself. Until then, they would rely on the expertise of Michael Albert, MD, an orthopaedic surgeon at Dayton Children's, to make her foot as functional as possible. By the time Tristen had reached the 5th grade, she had had five surgeries on her foot to remove extra fat, tissue and bones that were not needed in hopes of decreasing the size of her foot. 
A doctor and a friend
"Dr. Albert has become much more than a doctor to me," Tristen says. "He always wants to know how I'm doing and what I'm up to." This sentiment is shared by Tristen's mom, Martha, as well. "Before one of her surgeries he came down and carried her all the way to the operating table."  
Over the years, Tristen learned how to deal with "funny looks" and curious questions from other kids and adults about her foot, but she did not let her foot stop her. With the addition of special shoes to fit her feet, she began playing soccer. She excelled in school, and made lasting friendships.
But in sixth grade, she began to experience chronic ankle pain, perhaps caused by a loose bone chip or scar tissue. "That's when Dr. Albert and I started talking about the possibility of amputation," Tristen says. "At first I did not know how I felt about it because I had never known anything different. But after doing some research, I decided my life would be much better with the amputation than having surgeries the rest of my life. Pretty soon, I made my decision and told my parents and Dr. Albert that I wanted to amputate."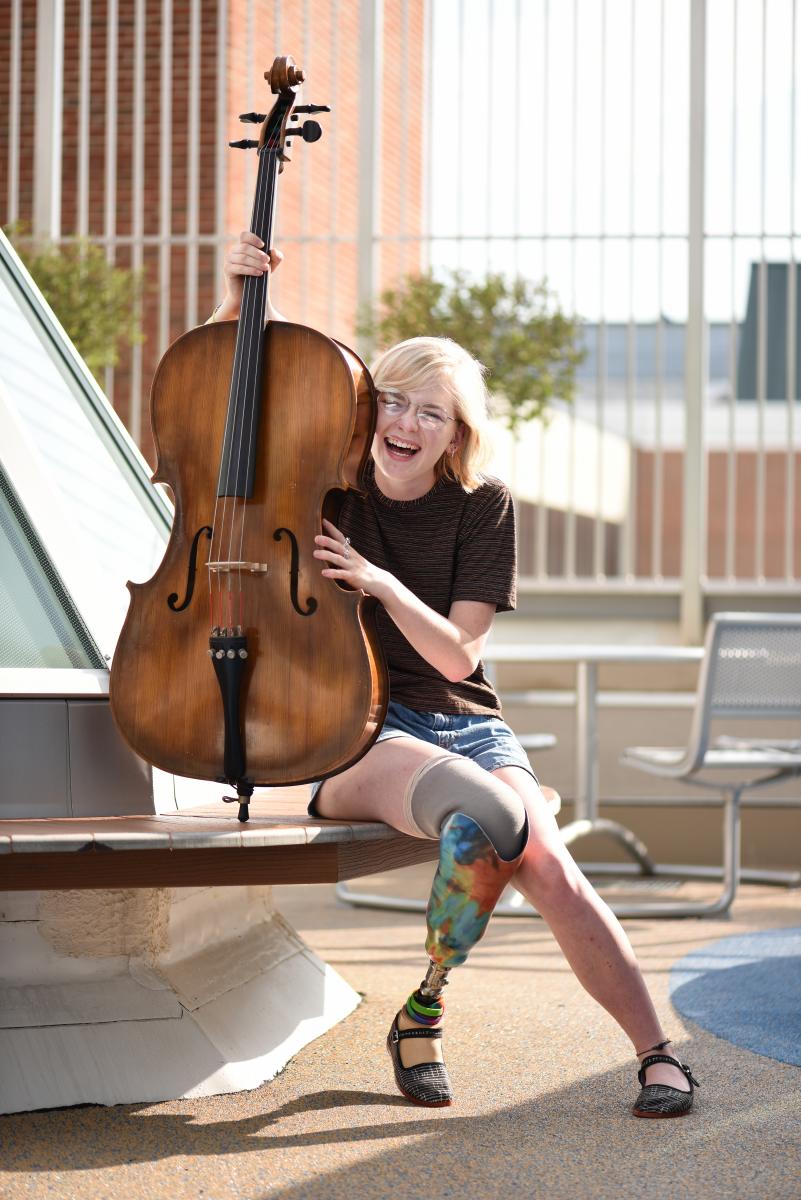 And so six months later, with the support of her family and friends, Dr. Albert, her pastor, Megan Collins, and the entire seventh grade class at Van Buren Middle School, Tristen came to Dayton Children's to have her right leg amputated below the knee. "The day before my surgery was right before Thanksgiving in 2013, and my teachers hosted a big party with cupcakes to wish me luck," she says. "Every seventh grader wrote me a note with something to make me laugh while I was recovering. My youth group also made me a blanket where they had all traced their feet. "
Tristen spent about five days in the hospital, followed by a long period of rehabilitation. After she went home, she developed a staph infection and other complications. She had to return to the hospital to help remove the infection and ended up needing a follow up surgery.
After months of rehabilitation and recovery, the next major step was getting fitted for her first prosthetic leg—a sparkly, black carbon fiber model that she eventually covered with band stickers from shows she went to with friends. That summer, as part of a Dayton Dragons "Home Run for Life" event, she ran the bases at Fifth Third Field before a Dragons game. "I was like 'don't fall, don't fall!" says Tristen, laughing at the memory. "I was so happy when I got to home plate."
Compassion and acceptance
Despite all that she has been through, Tristen says she has gained more than she has lost. "I think it's given me more understanding and compassion for people," she explains. "I feel like there is no 'normal' in the world—everybody is just different. We should be able to talk to each other about our differences and be okay with them."
Tristen knows that she couldn't have gotten to this place without her support system. "I am really lucky to have the people around me that I do. They give me confidence. I would not be who I am today without them."
Now a junior in high school, Tristen is exploring her artistic side. She loves to paint and draw and make t-shirts for her friends. She is also a cellist in the Kettering Fairmont High School orchestra and the Dayton Philharmonic Youth Orchestra and is part of theatre tech crew at school.
When asked if she ever misses her "original" leg, Tristen's answer is a definite no. "I am much happier now. I can do anything I want to do, plus I have this awesome, carbon fiber, tie-dye prosthetic," she says. "Who wouldn't want that!"